EHS Fashionistas Fall for Autumn Trends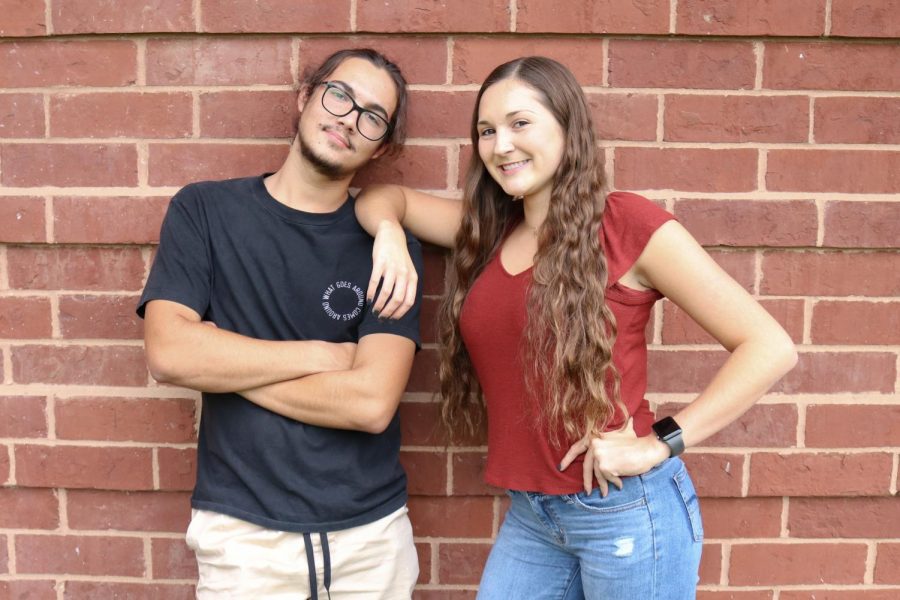 Labor Day is upon us, and with that comes the unofficial end to summer, but don't fret as we say goodbye to our skirts and sandals, we welcome coats and cardigans and other fashionable trends for fall.
One of the most common trends that dominated the runways this season was the statement coat. Everything from ornate prints to bold color and even fur was showcased. Statement coats can add an element of fun to any look.
Leather was another huge trend this season seen from designers such as Givenchy, Hermes and Yves Saint Laurent. And it's no longer just leather jackets: leather served as material for skirts, pants and trench coats, according to Harper's Bazaar online. Senior Skylar Bloch says leather skirts are a definite yes this season.
Bloch said she is most excited for the color red and plaid this season, both of which were featured in Elle Magazine's "Official Guide to the Biggest Trends of Fall."
"Red is my favorite color," Senior Morgan Knobeloch said. "I think anyone who wears it stands out because it's such a bold color."
She too, just like Bloch, can't wait to wear plaid this season.
"I just bought a pair of plaid overalls from I.AM.GIA that I can't wait to wear this fall," Knobeloch said.
Plaid is a key print this season and designers were inspired by different decades. Versace's approach had a '90s-inspired "Clueless" feel whereas Prada went for a more '70s feel.
"The versatile print was crafted into classic coats at Prada, statement pants at Tome, and even premiered as a formal gown at Jenny Packham," Elle Magazine said.
Another print that'll be a huge hit is animal print. "Leopard coats have been a street style mainstay for years now, and designers like Victoria Beckham, Raf Simons, and Tom Ford put them on the runway this season, too," Vogue magazine said.
The trend has evolved into leopard slips, zebra-striped pants, and tigers coats. These wild prints are quickly becoming this seasons neutrals.
But one shocking trend to many was the theme of western wear. An old-timey trend made up to date with steel-toed boots, cowhide prints, and wide statement belts. Isabel Marant even went as far as to open her show with Dolly Parton's "Jolene." Models wore prairie dresses paired with cowboy boots.
Fendi and Calvin Klein also had western inspired elements in their collection.
"Fendi featured cowboy boots and chic neckerchiefs," Harper bazaar online said. "And at Calvin Klein we were given a futuristic look at what America might look like, complete with traditional western shirts and plaid dresses."
If those last two trends seem too out there, then stick to a basic:  the hoodie.
"Hoodies are my go-to," Knobeloch said.
However, fashion bloggers are taking a new approach when it comes to styling the simple garment. Oversized hoodies are being worn as dresses and layered with denim or leather jackets. To top off the look, pair with chunky boots.
Boots are, and always will be, a necessity to your fall wardrobe and the chunkier the heel the better. The 90s platform is coming back and isn't just for boots. Platform Vans and Sneakers, such as Nike Air Force ones will be all the rage.
The last major trend featured was the Victorian-inspired collar. Elle Magazine describes Victorian collars as the fancy older sister of the turtleneck collar. Although the collar was seen on florals and other prints, the most common was a crisp clean white Victorian collar, giving off a very Shakespeare-esque look.
Fashion is a very personal thing said Senior Trevor Lovato. He likes to experiment and have fun when it comes to personal style, and he thinks confidence is the key to pulling any look off.
"I feel like I can pull off anything simply because I wear what makes me happy," Lovato said.