Jack Barker, Sports Editor
January 16, 2020
After three straight years of placing first at the Iron Invite meet, EHS placed second on Jan. 11. Edwardsville fell short of first with 337 points while Normal West, the...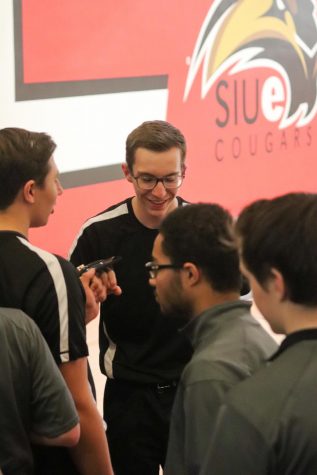 January 9, 2020
The EHS boys bowling team is looking ahead after competing in the Southwestern Conference Tournament. The tournament consisted of 4 different...
Wrestling Impresses at Cheesehead Tournament
January 9, 2020
The Tigers made their way to Kaukauna, Wisconsin yet again for the Cheesehead Tournament on Friday, Jan. 3 where they placed 12th of 32 teams...
Girls Basketball Ready to Continue Success
December 5, 2019
The girls basketball team is ready for another season of high expectations and have already landed a top five ranking in the state. These...
Lauren Johnson, Staff Writer
January 16, 2020
The most primitive fact of geography is this: winter in the West translates to summer in the East. The poor Aussies need not be reminded that they're in summer. Maybe...
Sydney Hershberger, Staff Writer
January 16, 2020
As a person on the autism spectrum, taking a look at "Atypical", a show that has been endlessly praised for having excellent realistic representation for autistic people,...
EHS Participates in Illinois High School Theatre Festival
January 16, 2020
EHS drama students ventured to the Illinois High School Theatre Festival on Thursday, Jan. 9. IHSTF is the largest, oldest high school theatre festival in the nation that lasts three days and takes...
Chinese Exchange Establishes Friendships, Connections
January 16, 2020
Coming from the "Chicago of China" to southern Illinois, 12 Chinese exchange students arrived on Jan. 6 to learn and build relationships. As the first part of the Chinese exchange program organized...
Talent Show to Amaze, Showcase EHS Skill
January 9, 2020
As winter break comes to an end, many performers await the upcoming showcase of themselves and their peers. Some will sing, some will dance, but all will blow you away. Performers old and new are coming...
Impeachment Trial Moves forward Amidst Uncertainty
January 9, 2020
On Dec. 18, President Donald Trump became only the third president next to Andrew Johnson and Bill Clinton to be impeached. In the U.S. Constitution, one must be guilty of "treason, bribery or other...

Loading ...