Anna Farrar, News Editor
May 10, 2019
For the second time in history, the first horse to cross the finish of the Kentucky Derby has been disqualified. Maximum Security's disqualification enabled initial-second...
Baseball Clinches Tournament Win
May 9, 2019
The Tigers swept the Tiger Classic Tournament on Saturday, shutting out Highland 6-0 and Chatham Glenwood 4-3. The Tigers opened the tournament...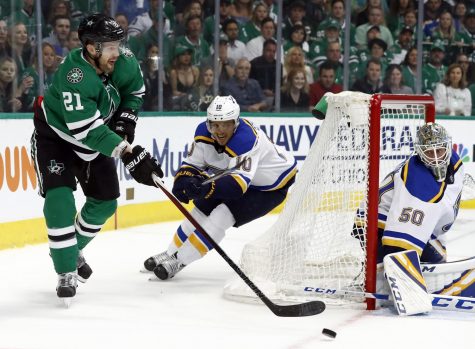 Blues Pouncing in Postseason after Regular Season Turnaround
May 7, 2019
The St. Louis Blue's weren't looking like a playoff team early in the season. But now, after a killer end to the regular season in which...
Athletic Department Purchase Agreement Set to Provide Discounts, College Campus Feel
April 4, 2019
EHS Athletic Director Alexander Fox stood just inside the main door just last week, a lot higher than he already is. Standing on a ladder, he...
Jacqueline glenn, Staff Writer
May 23, 2019
The Constitution promises every American citizen the inalienable rights of life, liberty and the pursuit of happiness. But not everyone is guaranteed to enjoy those freedoms. Despite...
Ryan Ash, Staff Writer
April 4, 2019
Though at times Netflix can produce good original content, its new film, "The Highwaymen," disappoints at most every turn. Starring Kevin Costner and Woody Harrelson...
Mr. Battle to Become Administrator at EHS
May 10, 2019
Marvin Battle, the director of EHS's band program for 19 years, has announced that he is taking an administrative position at the high school next year. "I've always been a person who likes challenges...
WikiLeaks Assange Extradited, Sentenced in London
May 10, 2019
Julian Assange, the founder of WikiLeaks took asylum in the Ecuadorian Embassy in London in 2012 to dodge extradition to Sweden. A few days ago, Assange was sentenced to 50 weeks of jail time by British...
Field Day Unifies Locals Schools for First Time
May 9, 2019
We may not all operate at the same level or have the same abilities, but we all love to have fun. And EHS's Unified Field Day, headed by senior Patrick Driscoll and sophomore Zack Gibbs, brought students...
EHS Student Takes Second at Poetry Out Loud Nationals
May 9, 2019
Junior Scottlynn Ballard rose to the podium in George Washington University's auditorium, shut her eyes for a moment and glanced up at the anticipating audience and judges at the National Poetry Out...

Loading ...