Marijuana Legalization Is Beneficial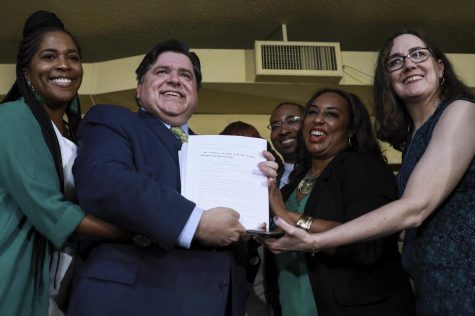 Five dispensaries in Illinois will be licensed to sell recreational marijuana to people 21 years and older starting Jan. 1.  While marijuana is endlessly controversial, its legalization is a positive change in Illinois state law.
The five approved dispensaries are scattered throughout the state, residing in Naperville, Mundelein, Joliet, Effingham and Canton.
Marijuana has sparked dispute for decades.  The Chicago Tribune has noted that those who oppose the legalization believe that there will be more addiction, mental impairment, and drugged driving deaths.  However, the war on drugs has been an utter failure, and its disproportionate harm toward minorities must end.
The illegalization of marijuana has had a detrimental impact on certain communities and areas, according to the Sun-Times.
"For years, it's been reported that pot-related enforcement and arrests occur more frequently in Chicago's predominantly black communities than in majority white neighborhoods, even after lower amounts of marijuana possession was decriminalized," the Sun Times reported.
The legalization of marijuana is a step in the right direction toward repairing the harm done by these inequitably enforced laws.  WTTW news reported that Sharone Mitchell, deputy director of the Illinois Justice Project, wants to use the benefits that the legalization of cannabis will bring to help those who have been most affected by its past illegalization.
"We want to ensure that funding or tax benefits that can come from the sale of legal cannabis are reinvested in communities that have been damaged by the criminal justice system," Mitchell said.
In November 2018, the Illinois Economic Policy Institute reported that the legalization of recreational cannabis in the state would "generate more than $500 million in tax revenues, creating more than 23,000 jobs, and boost the state's economy by $1 billion annually."  A portion of the money would also be "dedicated to expunging about 770,000 minor cannabis-related cases," according to USA Today.
Much of the opposition to marijuana is based on moral health issues.  In a study published by Scientific Reports, researchers Dirk W. Lachenmeier and Jürgen Rehm compared the effects of marijuana compared to tobacco and alcohol.  They regarded cannabis as a lower risk substance than both tobacco and alcohol. Yet, alcohol and tobacco are legal and regulated by the U.S. Food and Drug Administration.
The legalization of recreational marijuana is long overdue, and the State of Illinois should be applauded for being on the forefront of this issue.