New Orange Rush Leader Rallies Fan Section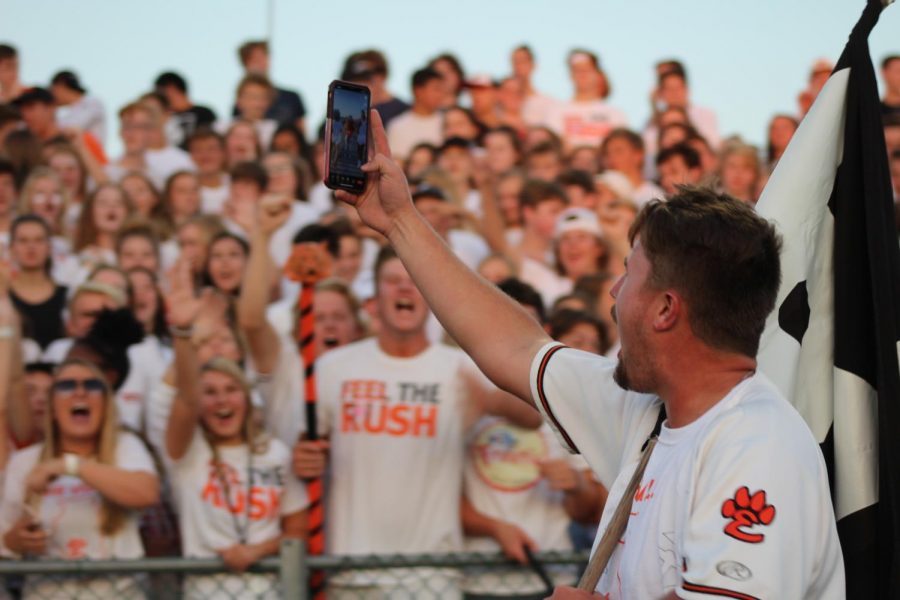 As a powerful "We are the Tigers! The mighty mighty Tigers!" erupts from hundreds of students, there is one man at the front of it all. At any given home football game, Orange Rush leader senior Jacob Kitchen will energize the crowd and rally support for the Tigers.
The start of this year, once again, sets the bar for the future of Orange Rush, and Kitchen has big goals.
The Orange Rush leader title has been around for many years and is typically given to a baseball player; this year it was no different. Kitchen inherited this title from Max Ringering, a senior last year who played on the state-winning baseball team.
Kitchen's job for the 2019-2020 school year is to lead the student fan section's cheers and chants at sporting events. Jacob says he loves his job and particularly enjoys the chants and unity with his classmates that comes with it.
So far EHS sports fans have positive comments on Kitchen's performance at the first EHS football game.
"I think the fan section did a good job at staying positive," senior Henry Hupp said. "Jacob did a great job at leading chants and getting the whole student section to participate."
Another senior, Denis Pandarakalam, commented on Kitchen, saying he leads the fan section better than anyone else could.
"He knows exactly what to do that would make the crowd go wild and he does it at the perfect times," Pandarakalam said.
Kitchen said he works "at Sunset Hills Country Club in the golf department." He likes to spend his free time with friends and watch baseball and football. Kitchen also plays baseball and golf.
Kitchen said that his goals for Orange Rush this year "are to have the loudest and most craziest fan section." He also wants to branch out and go to events that haven't been attended in the past.