EHS Tiger Tennis Advances to Sectionals After Conference Win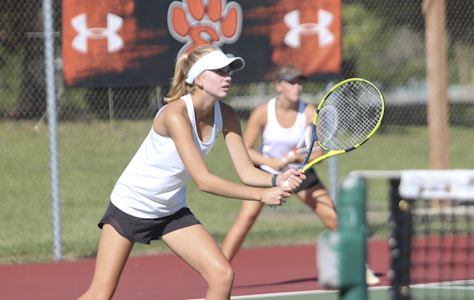 The EHS girls tennis team competed in the conference meet last Friday and Saturday.
They went into Saturday's singles competition in first place after their one and two doubles took first place on Friday in addition to a third-place finish by their three doubles team.
Junior Chloe Koons took first place in one singles, and senior Hannah Colbert took first place in two singles, defeating Belleville East and O'Fallon respectively. 
Junior Zoe Byron took second place in the three singles after a tough match that ended in a tiebreaker. 
Edwardsville finished the weekend as the conference champions, earning 57 points to defeat their closest competitor, Belleville East, by four points.
"This has been a really incredible season," head coach Dave Lipe said. "These girls have improved as much as any team I have ever coached in over 25 years."
This improvement, although partially due to the two-hour-long daily practices, was also due to a strong team dynamic.
"This is the closest I have ever been to my teammates during a season," Byron said. "We all have such a tight bond and all work so well together."
This dynamic seems to have developed from two key factors: great leadership and support from all teammates.
According to coach Lipe, Colbert has taken on a leadership role this season being she is the only senior in the top six. Koons, a junior, has also been a mentor to less-experienced players.
"We have a couple veterans, Hannah and Chloe, on the team that have been great with answering questions and just showing us how to work hard but also have fun," freshman Gabi Hill said.
Colbert and Koons demonstrated their leadership skills on Saturday when they showed their support to their teammates.
Despite already being in the heat for nearly four hours, Colbert, Koons and the rest of the team stayed to watch everyone in the top six finish their final matches.
Byron was the last of the top three, all of whom were competing at O'Fallon Township High School, to finish her final match.
She was competing against Brodie Rauch from Belleville East. They had played each other earlier in the season, a match which went on for nearly two and a half hours.
Byron lost the first set 6-3 but came back to win the second set 6-4, sending the athletes into a ten-point tiebreaker round.
The tiebreaker was close but ultimately resulted in a 10-6 victory for the Lancers. 
The Tigers did not hesitate, however, to offer words of encouragement to Byron, as a second-place finish in the conference tournament is nothing to be ashamed of.
"The teams support during all my matches is awesome," Byron said. "I always feel supported whether it was a win or a loss."
The Tigers then rushed to Belleville East High School where the rest of the athletes were finishing their final matches. By the time they arrived, only freshman Gabi Hill was still playing.
Similarly to Byron, Hill faced her competitor, Olivia Eiskant from Belleville West, previously. That match was her longest of the season.
With a win in the first set, Hill only needed to win a few more games to secure the win against Eiskant. But Eiskant put up a good fight. Both athletes played strong, sending unreturnable hits across the net.
"I knew I didn't want to split sets so I had to buckle down and look for some chances to finish the point," Hill said.
The Tigers' continued to offer support to Hill as she won the final set, defeating Eiskant 6-4.
With Hill's win in the books, the Tigers won conference with two first-place finishes in doubles and three first-place finishes in singles in addition to two second-place finishes in singles, one third-place finish in singles and one third-place finish in doubles.
The Tigers are set to compete in sectionals on Oct. 14 and Oct. 15. "All six of our girls are seeded [for sectionals]," coach Lipe said. 
"It's always hard to qualify for state, but we think we have a good chance to get some kids through and we're looking forward to the last two weekends of the season."