Boys Soccer Settles Season with Third Place at State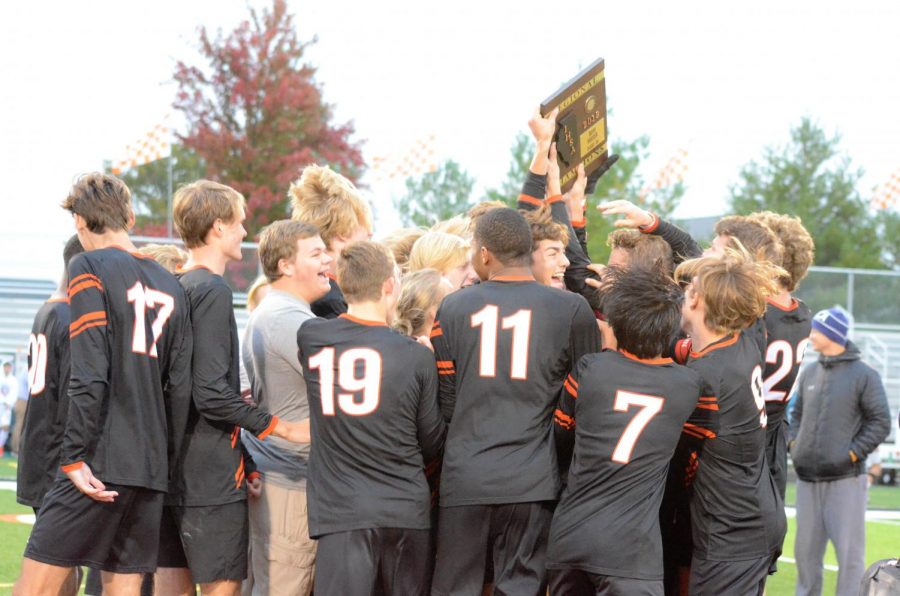 After a quick start and a second-half long-haul defense, the EHS Tigers took home third place in their Class 3A state tournament against the St. Patrick Shamrocks on Saturday, Nov. 9.
"The game was special to see how much we have improved throughout the year and how we didn't give up when it got tough through the game," senior John Matthews said.
And with their determination, the team members set an early lead of three points by halftime. With a strong defense after halftime, the Tigers beat out the Shamrocks 3-2, rounding out their season with a much-desired win for many of the upperclassmen.
"Everyone was really happy and excited to get the medals but it was also sad because that game was the last game that the seniors will play for their high school career," Matthews said.
This sentiment was echoed by senior Tony Agwuedu, who valued the team's time together and relished in their high placement at the state level.
"We were very up for it and wanted to end the season right," Agwuedu said. "Third is better than fourth and it was all about everyone playing for each other in one last game as a team and for many of us the last game of our high school careers.
"I felt the team played very well in some very tough conditions and very far away from home after a long bus ride against the best teams the state has to offer," Agwuedu said. "We played very well as a unit and very well defensively and took our chances when we got them, for the most part, against a team who could really move the ball and play the game very well."
With its season over and the seniors graduating this year, the team's main goal of making their mark with a high placement in state was met and exceeded.
"You always want to give the most and have the players go out on a high note," coach Mark Heiderscheid said in an interview with the Edwardsville Intelligencer.
And with that high note hit, the players felt a sense of pride of joy in their accomplishments.
"It was all about ending it on the right page with the right ending for a program we have sacrificed so much to be a part of and fully give our all every day to be the best we could be," Agwuedu said, "for our city and to represent Edwardsville in the best way possible at the biggest stage possible in the state of Illinois."