Tiger Football Faces Tough Loss, Looks to Improve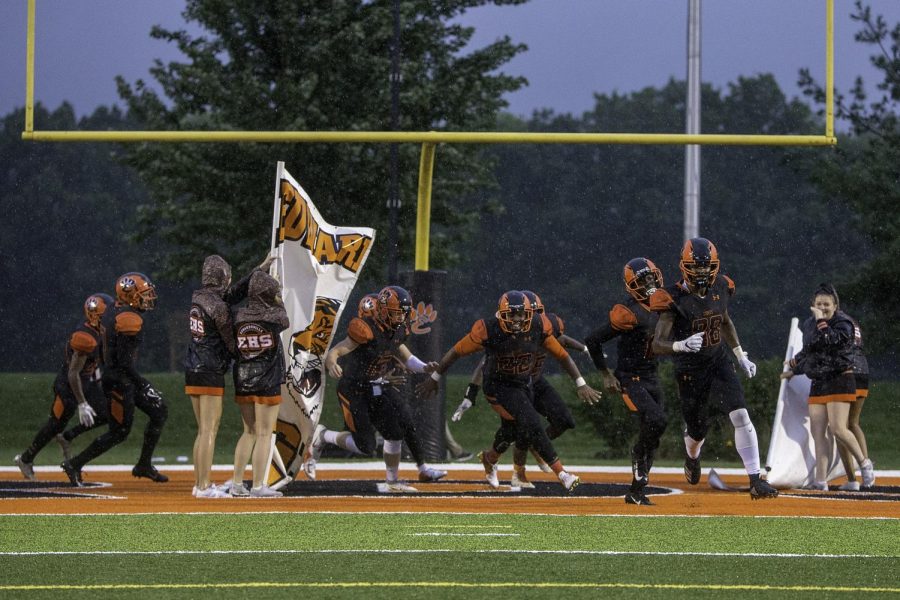 The down pour at last week's football game wasn't enough to stop fans from cheering on their Tigers.
Students went all out for the 'Murican themed game. Star shaped sunglasses, red, white and blue leis and American-flag-printed fanny packs were spotted amongst the crowd.
Seniors Patrick Driscoll, Noah Surtin, Michael Singh, Joey Lu, Kaleb Beeler and Brennan Tolle went as far as to pain their chests to spell out "TIGERS" for the game.
"I'm a die-hard sports fan," Driscoll said. "I'm dedicated to this school because those are my peers out there on the field fighting their hardest for our school, and the least I can do is support them to my fullest."
Sadly, even with the amount support, Edwardsville lost to East Saint Louis 34-21. According to The Intelligencer the Tigers fell behind early on, and the offense struggled on the quarterback-center exchange.
"You have to give East St. Louis credit," head coach Matt Martin told The Intelligencer. "They didn't seem to have too much trouble with ball control in this weather."
Edwardsville knew this was going to be one of their hardest games this year. East St. Louis is 2-1 in the state and currently ranked No. 3, but Edwardsville is not far behind at No.5, 1-2 in the state.
Senior football player Norman Harris said going up against a team with that skill wasn't something everyone on the team was mentality prepared for.
As upsetting as the loss may have been, there were definitely moments of success. Senior Kendall Abdur-Rahman broke off a 74-yard run to cut the lead to 14-7 with 10.5 seconds left in the first quarter. Unfortunately, the score didn't get any closer.
"Kendall made some great plays," said Harris. He also feels that junior Jacob Morrissey played a crucial part in the team's defensive line.
"We've learned that we have to be aggressive from start to finish or we won't get the outcome we want," Harris said.
The Tigers look forward to improving in week four as they face Waubonsie Valley High School.