Injury Benches Rodgers for Season
Hang on for a minute...we're trying to find some more stories you might like.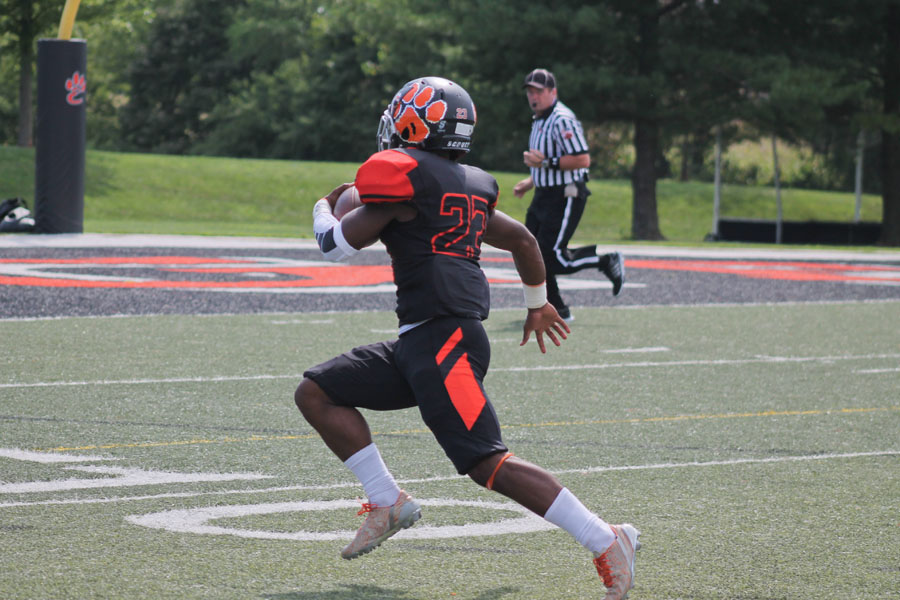 The already struggling Edwardsville Tiger football team took another big hit: the season ending injury of running back Dionte Rodgers.
For Edwardsville's big Friday night game against East St. Louis, Rodgers was standing on the sideline and out of uniform with a shoulder sling and. Few fans knew why.
"I was shocked (to see him injured) because I had not seen that he had a shoulder injury in the previous game," Tiger fan Max Ringering said.
Rodgers, however, knew the injury was forthcoming.
"The injury happened the third day of practice in the summer and I got proper treatment for it," Rodgers said. "It progressed throughout the season because I continued to play on it."
With Rodgers sidelined, the Tigers went on to lose 32-7 against East Saint Louis last Friday and are now 0-3 on the season.
"A lot went wrong in that game besides Dionte being out," head coach Matthew Martin said. "We didn't execute on special teams and on offense and defense."
Rodgers said he will have shoulder surgery within the next few months and will have to go through physical therapy. The timetable could be up to eight weeks.
Rodgers said he has high hopes for his senior campaign next year, and he looks to come out even bigger, faster and stronger.
Last year Rodgers had more than 1600 yards and set a school record for touchdowns in a season with 29. He was off to a great start this year with over 400 yards in his first two games.
It's obvious that Rodgers will be missed, but the Tigers are focused on the rest of the current season and look to move on without their star running back.
Even though they would love to have Rodgers with them, Edwardsville still has some nice backs in junior Antonio Thigpen and sophomore Jacob Morrissey, coach Martin said.
Rodgers will still be with his team every step of the way, despite his injury situation. He says he can still contribute to the team even when he's not on the field.
"I know what we are capable of doing and how much work (my teammates) put into the game," Rodgers said. "So I think we will be fine for the remainder of the season."