Biden's 2022 State of the Union Address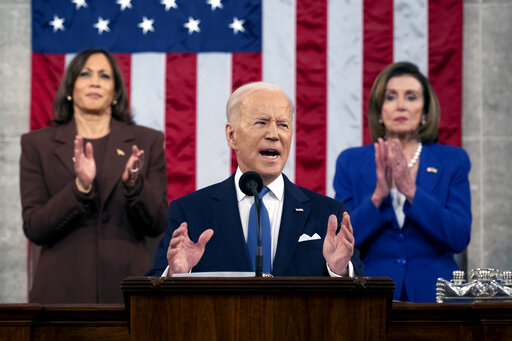 President Joe Biden took to the stage to give the State of the Union address on March 1, 2022. According to PBS, this was the first time since before the COVID-19 pandemic that the chamber was able to meet in its entirety. 
I have highlighted the main topics he covered in five categories: Ukraine, infrastructure, taxes/wages/costs, COVID-19 and civil matters.
Ukraine:
Biden opened the address by discussing Russia's invasion of Ukraine. 
The United States, along with many other countries in or allied with NATO, have taken action to weaken Russia as their invasion persists.
"I am announcing that we will join our allies in closing off American airspace to all Russian flights, further isolating Russia and adding an additional squeeze on their economy," Biden said.
These efforts, according to Biden, have already taken effect. At the time of the address, Russian stocks were down by 40%, and the ruble had decreased in value by 30%.
While the United States will not be engaging in active combat with Russia, troops were sent to Europe to support NATO allies in case Putin continues moving west, and the United States has given $1 billion to Ukraine to assist in their defense against Russia. 
After a brief intermission for applause and a standing ovation of nearly everyone in the chamber, Biden moved on to discuss his plans for economic recovery in a post-COVID-19 time.
Infrastructure:
One of Biden's upcoming goals is to improve infrastructure by acting on the Bipartisan Infrastructure Law.
This bill should "create good jobs for millions of Americans, [modernize] roads, airports, ports, waterways all across America," Biden said.
He will begin this movement by fixing 65,000 miles of roads and 1,500 bridges.
And this will be done with American-produced products, as stated in the Bipartisan Innovation Act. This bill will also promote investments in technologies and American manufacturing.
Another product of this bill will be the building of a $20-100 billion semiconductor mega site in rural Ohio. Biden estimates that this will create 10,000 new jobs.
Other companies such as Ford and G.M. have made efforts to create new jobs in the past year, an achievement which Biden hopes to replicate across even more businesses. 
Taxes/Wages/Costs:
With these new jobs comes hope for a higher minimum wage: $15 per hour. 
"One way to fight inflation is to drive down wages and make Americans poorer." Biden said. " I think I have a better idea to fight inflation. Lower your cost, not your wages."
Biden calls this initiative: "Building a better America."
This plan consists of three major components: "Cut the cost of prescription drugs… cut energy cost for families an average of $500 a year by combating climate change… [and] cut the cost of child care."
Also included in this plan is affordable housing, pre-k for 3- and 4-year-olds and no tax increases for families making less than $400,000 per year.
Large corporations, however, could be affected by Biden's proposed 15% minimum tax rate for corporations.
"I'm not looking to punish anybody," Biden said. "But let's make corporations and wealthy Americans start paying their fair share."
While large corporations could expect to pay more, families with relatives in nursing homes could expect to pay less.
Biden hopes to use Medicare to set higher standards for nursing homes which includes decreasing the cost while improving the quality of care. 
Due to the infectious nature of COVID-19, nursing homes had limited interaction between residents and visitation from family. However, these regulations and many others are beginning to be lifted.
COVID-19:
According to the CDC, many counties in the United States have become low transmission areas, meaning they now recommend getting the COVID-19 vaccine and getting tested if you have symptoms. 
With this news, Biden is hopeful to move on from this pandemic.
"But tonight I say that we will never just accept living with COVID-19," Biden said.
He recommended four common sense tactics to return to normalcy: receive vaccinations and viral treatments, prepare for new variants, open schools and businesses and vaccinate the world.
As COVID-19 was at its ugliest, so was police brutality. 
Civil Matters:
Instead of defunding the police to combat this issue, Biden suggested exactly the opposite.
The American Rescue Plan provided $350 billion to cities and states across the United States to hire more police and train them with strategies that have proven to be effective.
Additionally, the "Justice Department has required body cameras, banned chokeholds and restricted no-knock warrants for its officers," Biden said.
To ensure that rights are not infringed upon during elections, Biden hopes to pass the Freedom to Vote Act, the John Lewis Voting Rights Act and the Disclose Act.
In the final stretch of his speech, Biden announced his Unity Agenda. 
This consisted of four components: "Beat the opioid epidemic… take on mental health… support our veterans… [and] let's end cancer as we know it."
As Biden continues his time in office, only time will tell which of these goals he has set will become a reality and which will never reach his desk in the first place. 
He finished his speech with these parting words: "God bless you all, and may God protect our troops. Thank you, Go get 'em."