Theater Arts Student Plays Dead for CSI Lab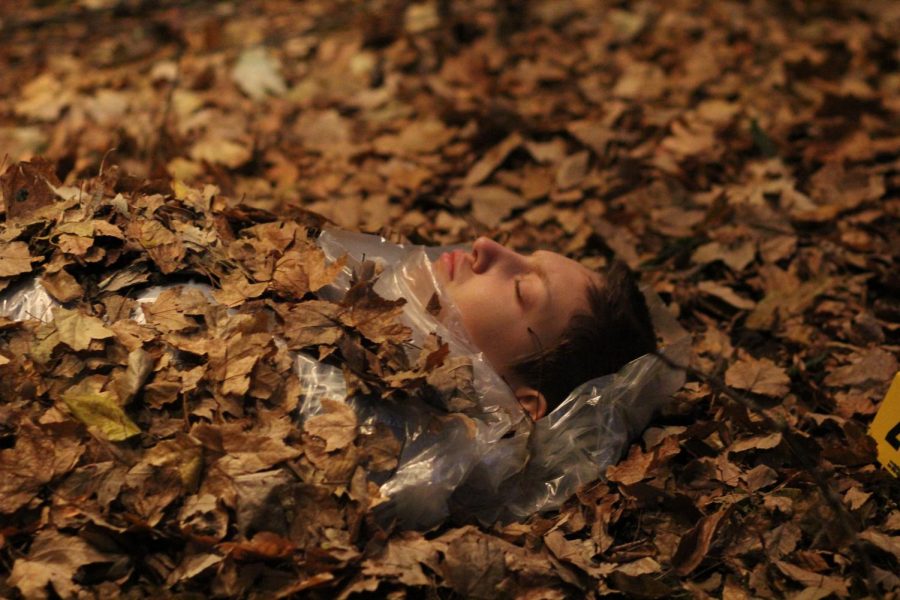 What is it like being dead?
According to senior Sabrina McGuiggan, it's pretty fun. Although it's difficult keeping still.
McGuiggan played the role of a murder victim in EHS's annual Crime Scene Investigation Lab, in which biology students use sophisticated forensics methods and crime scene analysis to solve a murder prepared by EHS theater arts students, who seem to delight in the activity.
The role was McGuiggan's first as an actor, and she said that keeping a straight face was a challenge while she was being examined on the scene. Apparently, it's hard to fake rigor mortis when you're surrounded by high schoolers.
"When I was laying down, one of them said, 'I bet she got in a bar fight,' and I really wanted to laugh," she said, smiling. "And then during fifth hour, they flipped me over onto my face, and I ended up laughing during that. It was bad."
The crime scene and McGuiggan were arranged very precisely to make the CSI Lab as realistic as possible. Her makeup alone took about an hour, McGuiggan said.
The entire event is orchestrated by Mrs. Doll and Mrs. Arteberry, who teach the upper-level biology students participating in the lab. Mrs. Doll said that the planning of the lab can be very extensive, and the lab itself can get intense.
"It's organized chaos," Mrs. Doll said. "…At any given year, (you have) up to 60 to 80 students in two rooms for three hours."
However, the students learn how to coordinate with one another and follow a chain of command  in order to take advantage of their large resources as a team, Mrs. Doll said.
"You have so many different groups trying to work on the same objective, but there are so many different parts to it," she said. "They have to learn to communicate with each other."
In the middle of all of this frantic work, stagehands from the theater arts classes move around props and do their jobs like they're invisible, wearing crude, strangely comical signs reading 'I am not here.'  
Junior Caroline Adcock was on of these stagehands. She said she was told the whole story of the crime, and was given a specific set of instructions to prepare the scene.
Of course, the details are top-secret, but Adcock said that hasn't stopped her friends from pestering her. She committed herself to silence, however.
"Everyone's just mad at me about it," she said, chuckling.
Adcock said that viewing the lab from an omniscient perspective was an interesting experience she was glad to contribute to.
"It was nice seeing how it would work and being a part of it in a different way," Adcock said. "And we didn't have to go to class that day."
McGuiggan said she would do it again, if she could. Although she has received some odd feedback on her newfound acting skills.
"People keep on saying that I did well as a body," she said. "It's weird."