Cross Country Wins at Sectionals; Girls and Boys to go to State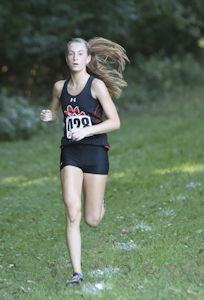 A muddy course, 40-degree weather and a long drive from home. 
The conditions at the IHSA sectional cross country meet in Quincy, Illinois were substandard, but that didn't stop both girls and boys teams from qualifying for state. 
The boys scored 123 points, placing fourth in the sectional behind Minooka and Plainfield North and South, and the girls scored 149 points, placing third behind Yorkville and Minooka (Races are scored by assigning a point value for the place a runner finishes in, so if a runner were to finish fifth, they would earn 5 points).
To make the state meet, teams had to place in the top seven. 
The girls reached their goal to place third at the sectional, but the boys fell short of their goal to win. 
"We went in knowing that if we raced our butts off we would have a chance at winning," said senior Ryan Watts, who finished third overall at the sectional. "It was a disappointing race, but in the grand scheme of things, losing sectionals is not the end of the world." 
Watts has bigger goals to place first at the state championship.
"My goal for sectionals was to do as little as possible and still win. Though that didn't happen, I will be giving it my all at state, probably running a full minute faster at the two mile mark," Watts said. "I'm not that worried about the guys who beat me in this sectional, but there are about five or six other guys from different sectionals who will be the biggest competition. I am right in the middle of that pack." 
While Watts' personal goal is to win, the boys team's goal is to place in the top 15 teams. Senior Ryan Luitjohan, the third finishing runner from EHS and 15th finishing runner overall, thinks that the team is well-prepared to reach that goal. 
"It's very hard to have a perfect day across the whole team, but our coaches have put us in a good position to compete well," Luitjohan said. "We're in good shape, and now it's time to rest and prepare."
This week, both teams are beginning the taper process, which is a gradual reduction in exercise to ensure they are at their full potential for the state meet. This includes a large reduction of mileage and an emphasis on mental preparation. 
Junior Maya Lueking, who finished third out of EHS girls runners and 34th overall, says taper is important for a good performance at meets. 
"Tapering at the end of the season is very smart and it gives us a chance to fully recover before important meets," Lueking said before commenting on the girls team's goals for state. "Before the sectional meet our girls team was ranked 17th. After sectionals, our coaches are projecting we are ranked 10th to 15th. As a team, we are hoping to make it in the top 10 because that would be a huge accomplishment for us." 
Well-worked and now well-rested, both cross country teams are geared up for state. 
"We have had a great season," Lueking said. "I think we are all ready to run fast and set some personal records."
The state meet will have 28 teams face off in Peoria's Detweiller Park on Nov. 6. The girls' race will start at 1 p.m., and the boys' race will start at 2 p.m.