Senior Athletes to Continue Academic, Athletic Journeys
Sports played a large role in these seniors' lives throughout high school, and they're ready to pursue athletics in college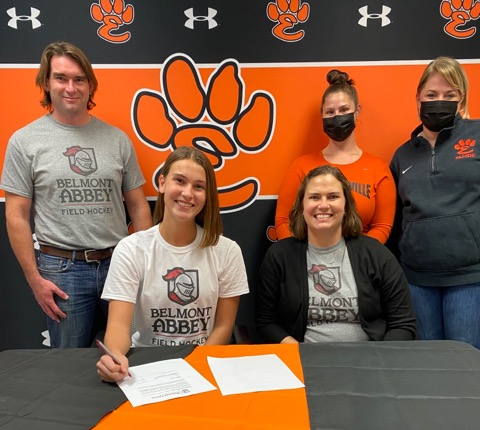 Before first semester came to an end, many senior athletes had already chosen a college path. As their pens touched paper on signing day, each of these students took the next step toward life after high school.
This month senior Katelynn Roberts committed to play basketball at Missouri University of Science and Technology, a school that she said will provide her with quality education and excellent basketball opportunities.
"Signing day was super exciting," Roberts said. "It was really fulfilling to make everything official and see all my hard work pay off."
But that hard work afforded her more than refining her skills.
"[Basketball] is a big time commitment, but it is also the place where I met some of my best friends and made some of my favorite memories," Roberts said.
For senior Hayden Moore, the decision to continue his baseball career at Missouri State was an easy one.
"I was born with a ball in my hand," Moore said. "Signing to play at a Division I baseball program is a dream come true, and I was able to do it with my family next to me, just as excited as I was."
Moore said baseball has not only played a significant role in his life, but in his academic career.
"It gave me a reason to want to come to school," he said. "Gave me something to look forward to after school. It's also an honor to play for such a good program and to succeed like we did."
After college, Moore hopes to play baseball professionally. Senior Brandon Battle shares similar dreams, his consisting of a career in track and field.
"I remember watching the U.S. indoor world championships on TV, and ever since I always wanted to run for team USA," Battle said.
Battle will continue to run track and field at Eastern Illinois University, one of the first schools to contact him after a successful sophomore season. EIU hosts the state competition for track and field, an event Battle has attended since his freshman year.
"So knowing the school pretty well…the atmosphere is what drew me to commit to EIU," Battle said.
Senior Gabbi Trauernicht felt a similar compulsion to commit to Belmont Abbey, a small college outside Charlotte, North Carolina. She loves that it's a Catholic institution, and she already feels connected to the field hockey team, which she committed to on Nov. 12.
"All throughout middle school, I wanted to play Division I…but I actually ended up committing to a Division II school," Trauernicht said. "I just felt like I belonged there, and the team was very welcoming."
Regardless of the division these seniors will play in, they share a deep love for their sports. Each senior hopes that remaining active will continue to enrich his or her life, just as it has enriched high school.
"The role of being a student-athlete, having to keep good grades and be good in the classroom has transformed me into a better person," Battle said. "Meeting new people and making friends on the team…has made high school pretty fun."