Boys Tennis Plays Despite Weather Issues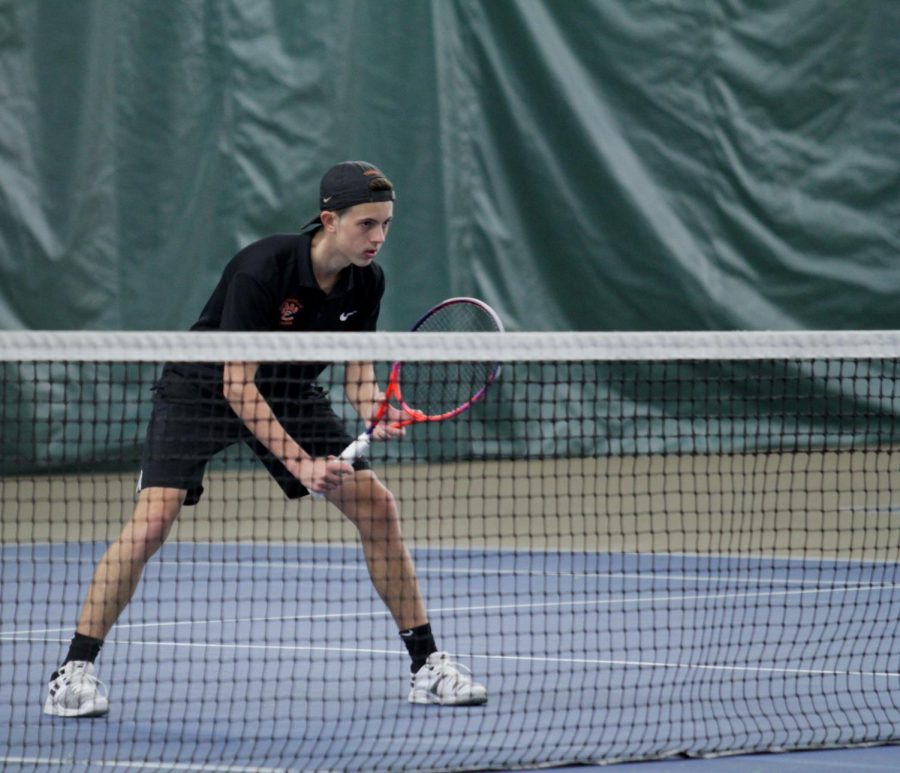 Gloomy skies didn't foreshadow a dreary loss for boys tennis.
Instead, the Tigers crushed Normal University High School, the defending state champions, on Saturday, March 30, with a 6-3 victory. They played indoors at the Meyer Center YMCA due to the thunderstorms that spanned most of the morning.
The rain canceled the official tournament, the EHS Spring Invitational, but EHS still played the schools, Normal and Riverfield High School from Tulsa, OK, that remained in Edwardsville despite the change of plans. On Friday, March 29, EHS lost a match against RHS 5-4.
"On Friday, we lost some key tiebreakers that would've given us a win," senior Nick Hobin said. "We intend to work on that and get better in game-winning situations."
Senior Seth Lipe explained that missing his teammate, sophomore Gabbo Montanari, might have influenced the team's losses. Montanari was briefly suspended on Friday, but he returned to the court the on Saturday.
"We lost a match to a team from Tulsa, but we were missing our No. 2 singles player," Seth said.
But the Tigers bounced back with the win against Normal the next day, which increased the team's record to 3-4 from 2-3.
"That's a talented team that we beat today," coach Dave Lipe told the Edwardsville Intelligencer.  "We've had three 5-4 losses this year, including one yesterday, so this was a big win for us."
Inspired by Saturday's win, the team has set lofty goals for the remainder of its season. The Tigers have several invitational and regular matches, a conference tournament and sectionals to power through before reaching their ultimate aspiration.
"My goals for the rest of the season are a top five team finish at state and to make the semifinals of the doubles state tournament," Seth said.
Hobin, too, aims highly.
"Goals for the rest of the season are to keep playin' tough and win as many matches as we can for the Tigers."