Wrestling Triumphs at Hickman Tournament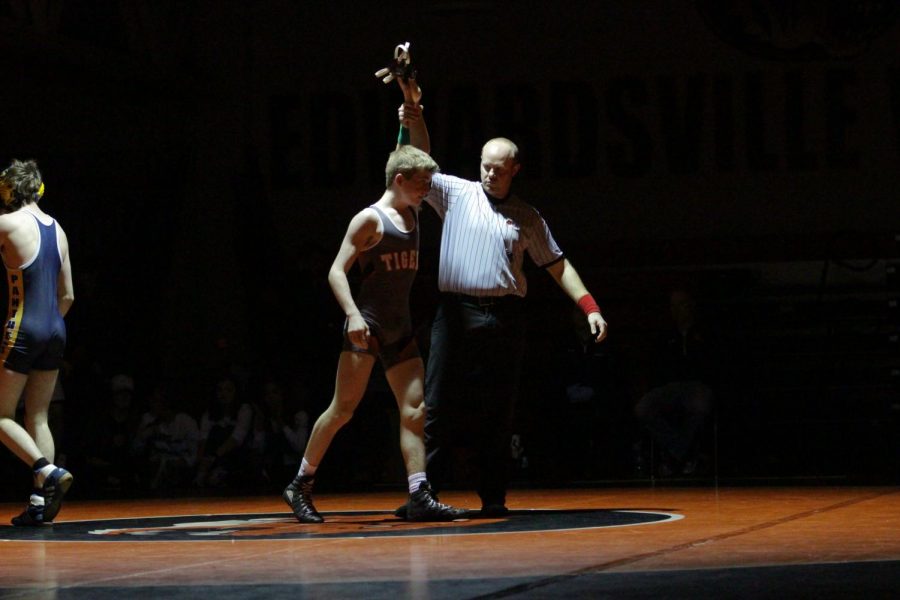 The EHS wrestling team earned a championship at the Columbia Hickman Wrestling Tournament on Jan. 19. This win marks their second team title.
The team scored 371.5 points, with the closest following teams being Jefferson City and Lees Summit North, scoring 254 and 236.5 points respectively.
Senior Noah Surtin (126 pounds), junior Luke Odom (145 pounds) and junior Lloyd Reynolds (285 pounds) each won first place.
"During and before my matches I treated every match as if it was a state finals match," Noah Said. "I was focused and I knew I just had to go out there and score points."
Sophomore Grant Matarelli (106 pounds) and junior Caleb Harrold (160 pounds) earned second-place finishes. Freshman Dylan Gvillo (120 pounds), senior Jack Evans (132 pounds), junior Blake Moss (195 pounds) and senior Josh Anderson (220 pounds) all made third place.
Sophomore Connor Surtin (113 pounds) finished fourth.
Noah won seven of his matches by pin with only one round being otherwise (he had a bye that round). He had a pin-submission in the first round five times. His record this season is 38-1.
"The bracket was full of tough, hard-nosed kids that went out and fought," Noah said. "I just had to practice hard and keep my mind right just like every other tournament."
Odom left the tournament with a season score of 40-1. In the semi-finals, he pinned Northwest Cedar Hill's Austin Akins in 27 seconds.
Reynolds earned Edwardsville's third individual championship by defeating Joplin's Jacob Booe 3-2 in sudden victory. Booe entered the match 21-1, while Reynolds was 29-9.
The tournament was a promising showing for the Tigers and if they can keep this up, they'll be poised to be very successful.
"It was a good team effort overall," Anderson said, "winning the tournament back to back as a team as well as cleaning up our technique before the postseason."