Wrestling Takes Down CBC at Beauty and the Beast Meet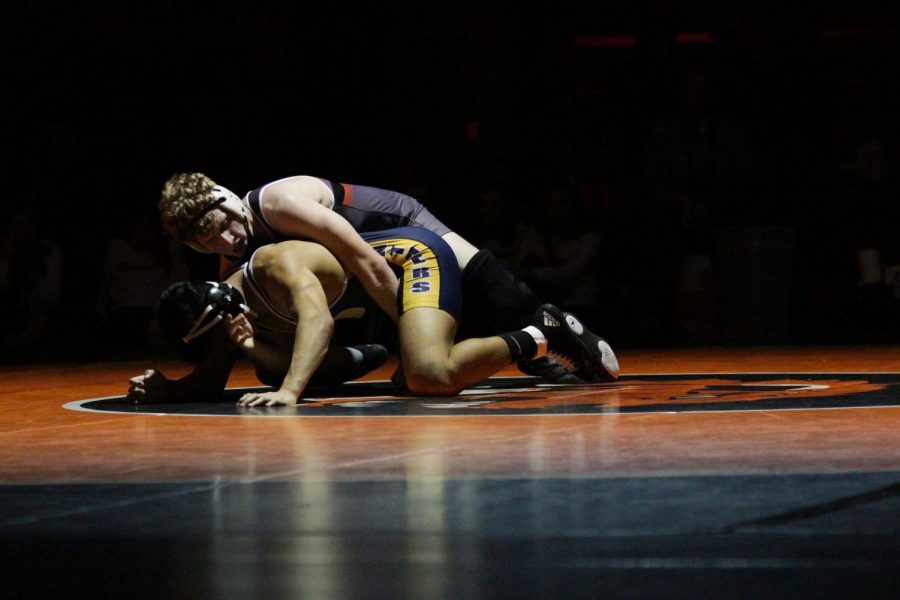 Everyone knows the story of "Beauty and the Beast:" A beautiful woman falls in love with a horrendous beast. Edwardsville, however, has a different version. The EHS cheer and dance teams, the beauty, cheer on the beast, the EHS wrestling team, in its annual wrestling meet.
The Beauty and the Beast meet is wrestling's most attended event; students fill the crowd and have lots of fun, senior Joshua Anderson said.
"The home crowd's atmosphere was electrifying," Anderson said. "Every time one of our wresters scored, you could feel the energy in the room and having the cheerleaders and dancers gave us a lot of momentum. It was an awesome performance."
The meet was especially significant for the seniors because it was their last one "under the lights," meaning a large spotlight is put in the middle of the facility while they compete. The light is only used at certain events and gets the team hyped up, senior Noah Surtin said.
As for the team's performance, Edwardsville beat Christian Brothers College 36-27.
"The meet went very well, getting a win over a very capable opponent, and doing so in a lot of close matches is awesome to see," Anderson said. "We fought them on every front, and I feel like the team has improved a lot."
Surtin agrees and couldn't be more proud of the team.
"I'm proud of them for believing and continually working hard to get better" Surtin said. "Even though some of us didn't wrestle to the best of our ability everyone went out there and gave it their all."
The team's goal for the rest of the season is to win as many matches as possible and get in the top four for state.