Tiger Wrestling Wows at Cheesehead Tournament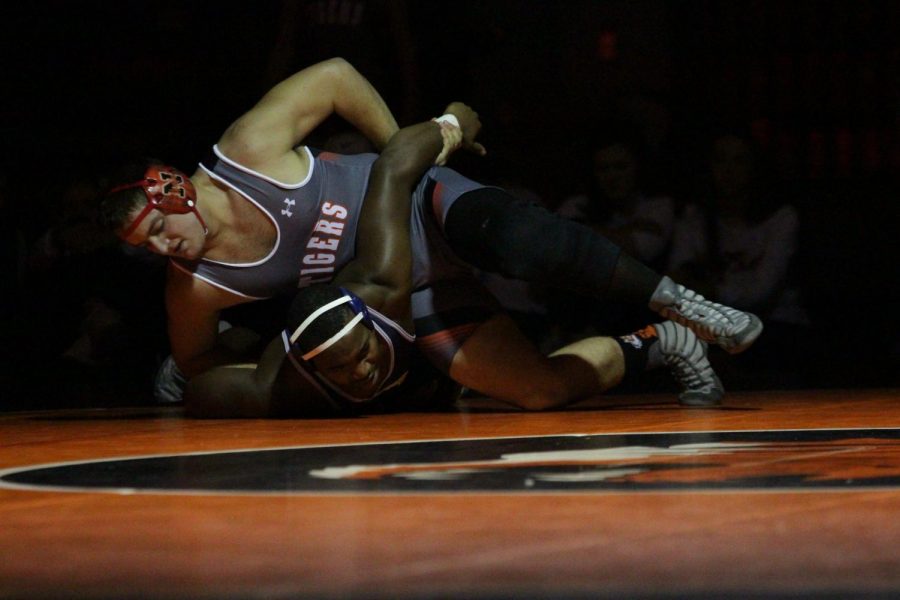 Sam Lance, Co-Editor-in-Chief
January 10, 2019
Edwardsville wrestling displays only two first place finishes in the annual Cheesehead Tournament at Kaukauna High School in Appleton, Wis.
This year, they had three.
Seniors Noah Surtin (120 pounds) and Josh Anderson (220 pounds) along with junior Luke Odom (138 pounds) led the Tigers with first place finishes that contributed to the team's overall 436 points to finish seventh place.
"It tied our best placing and as a national tournament with 30 different teams from New Jersey to Arizona," said Anderson, who upped his record to 20-2 this season after the championship match. "Team morale was high after the tournament."
Early on in the 120-pound championship match, Surtin struggled.
"I was honestly really confused," Surtin said. "It's really hard to explain but I was out of it. I just knew I had to score a lot of points."
However, with a clutch takedown at the end of the match Surtin was able to pull ahead and give himself the 17-12 win.
Unlike Surtin, Odom was unmatched throughout the tournament, outscoring his opponents 86-3.
"No one scored a point on him," head coach Jon Wagner said to The Intelligencer. "The points he allowed were escapes so he could take his opponents back down."
Odom, who is ranked first in the state and eighth nationally, has dominated this season with a record of 30-0.
"It's all about confidence," he said. "I just go out every match thinking I won't be beaten, and I focus on putting a lot of points on the board every match.
The Tigers will be back in action today at Alton against Althoff, Lutheran St. Charles and Alton.