Dance Team Hosts Competition, Looks Toward Sectionals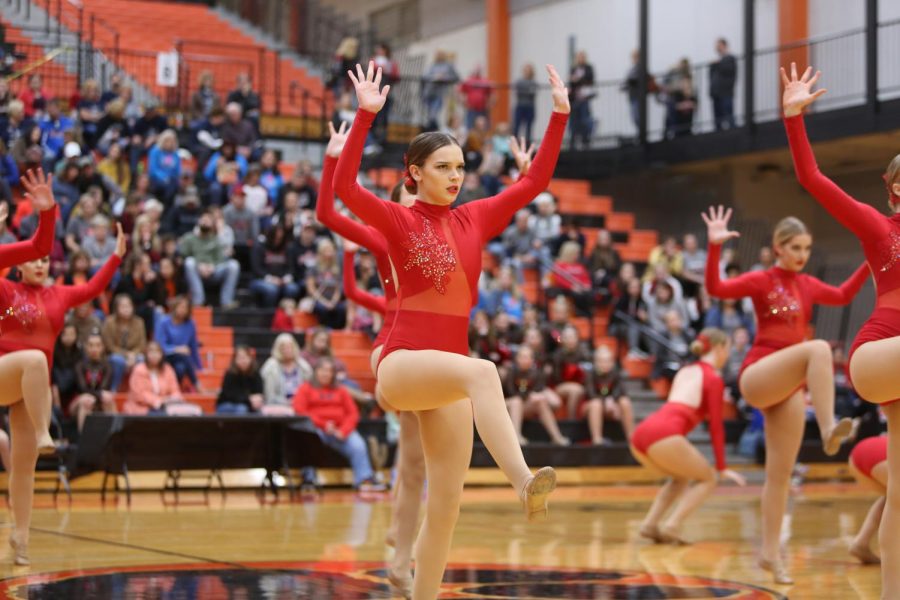 While the EHS dance team has been preparing for the IHSA Sectionals and State competitions, the team hosted the annual Illinois Drill Team Association Dance Competition on Jan. 5 and placed second overall.
The team has been working hard, and sophomore Allie Adams is glad to see it pay off, especially the weekend before the IHSA Sectionals.
"My favorite part was being with my team, but it was also really nice to do well this weekend because we spend so much time practicing that it felt reassuring to do well," she said.
The dance team also placed first in the Class 3A lyrical dance category, which is a "slower type of movement," according to Adams.
The girls are looking forward to competing at sectionals, which will determine if they qualify to compete at the state level. After placing second behind Highland by .5 points, senior Brittney Yarbrough said that the team is looking to push even harder through the competition season.
"It is our goal to keep working hard and improving for sectionals next weekend," Yarbrough said. As a senior, her own goals include "making it to IHSA State and placing in the top 3 at IDTA State."
Junior Emma Vuagniaux was grateful for the opportunity to perform before sectionals to prepare for the IHSA competitions.
"We need to work on being sharper and finishing all of our movements," she said. "Last weekend was honestly the best we've performed so far but there's always room for improvement."
The IHSA Sectionals competition will take place on Jan. 19. State will be the following weekend on Jan. 26 and the IDTA state competition on Feb. 2.