Ice Hockey to Play Vianney Again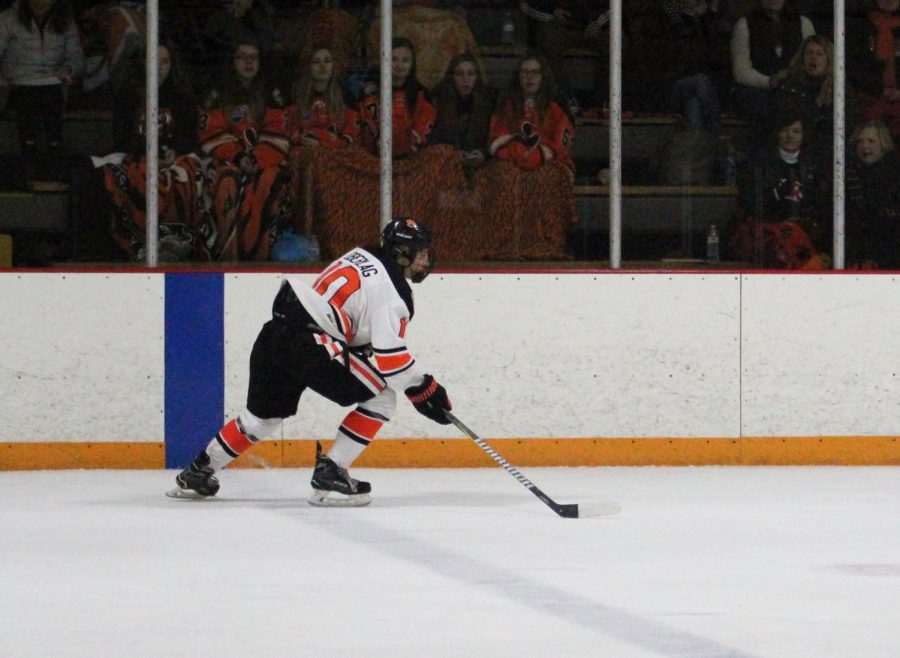 The EHS Mid-States varsity ice hockey team looks to redeem themselves after a previous loss to St. John Vianney High School this season.
The Tigers will face another tough game against the Griffins tonight. Vianney is currently 12-5-1, and they added a loss to the Tigers' 4-10-3 record earlier this season.
Even though the prior game ended in a loss for EHS, the team has seen where they have room for improvement.
"We know what to expect this game after the last one," junior Justin Harper said. "They drive the net and are some of the hardest skaters we've played against."
Harper said that if the team picks up the pace and starts to win faceoffs, then they will have a chance of winning, and senior Tyler Berry agrees.
"We definitely feel more prepared after seeing them once already this season," he said. "We've worked a lot of things out since last time, especially our forecheck, which killed us last time."
When the teams faced off on Nov. 19, the Tigers lost 9-4. EHS was outshot 33-10.
According to Berry, the team hopes to increase their number of shots on net in the next match up.
"Their goalie is their weakest link," Berry said. "We had a very low amount of shots last time, so I think if we just put everything on, it'll start to shift our way."
In the previous game, Berry, Harper, senior Mitchell Oberlag and junior William Schuster scored EHS's four goals. And senior Mason Young made 24 saves in goal.
Young has allowed 69 goals this season. Nine came from Vianney.
"I hope that I can make some more saves, keep the puck out of the net more and stop as many shots as possible," Young said.
The Tigers will play Vianney at 8:30 at the East Alton Ice Rink tonight. EHS will be the home team.
"We always like go play for our fans," Berry said. "We seem to be playing a lot better at home. It's a great atmosphere to have students and people from the community cheer us on."