Tigers Football Continues Postseason Success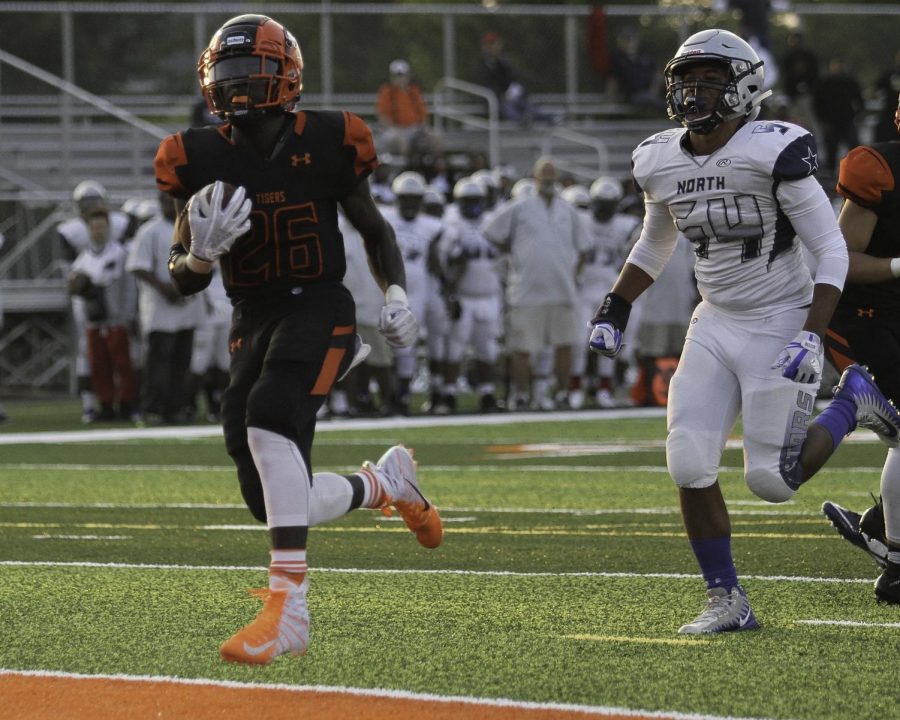 Sam Lance, Co-Editor-in-Chief
November 8, 2018
Edwardsville football continues its postseason push with a staggering 45-16 win against Aurora West Saturday at the sports complex.
The Tigers were all over the field, turning Aurora West over three times and tallying 514 yards of total offense.
"Our O-line did a good job handling their pressure," Edwardsville head coach Matt Martin said to The Intelligencer. "They blitz a lot, and if you can get a hat on a hat when they blitz, you have a chance to get big plays."
Senior quarterback and Notre Dame commit Kendall Abdur-Rahman opened up the scoring with a 23-yard touchdown pass to senior Dionte Rodgers. Abdur-Rahman finished with three passing and two rushing touchdowns, but it was sophomore running back Justin Johnson who stole the show.
Johnson rushed for 224 total yards, including a 20-yard touchdown run in the second quarter to give Edwardsville a commanding 21-7 lead. Johnson also added a touchdown reception and averaged over 10 yards per carry.
"He made a huge impact," Rodgers said. "JJ ran like a man."
In the second half, the Tigers added three more touchdowns, including Abdur-Rahman's 1-yard run to put Edwardsville up 28-10 early in the third quarter.
Edwardsville defense closed out the game strong and only allowed Aurora West, who were averaging 43.2 point per game coming into the matchup, to 16 points.
Edwardsville will now travel to face defending state champion and undefeated Lincoln Way East on their home turf 6 p.m. Saturday.
"We have to play together as a team," senior safety Norman Harris said. "It's going to take every person out there to win it."