Tiger Football Beats West on Senior Night, Homecoming Game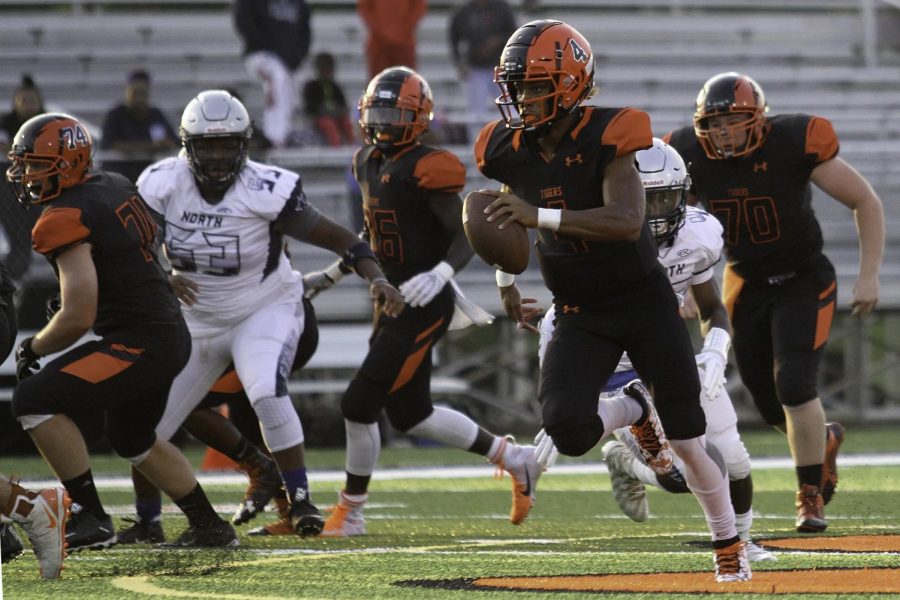 Sam Lance, Co-editor-in-chief
October 18, 2018
EHS football stumped Belleville West 37-6 on Friday to clinch a playoff spot for the eighth straight year.
It was homecoming weekend and senior night for the Tigers, and emotions were running high early on.
"We knew this was the most important game of our season especially for playoff seeding," senior kicker Brendan Latham said. "Everyone was ready to do their job and beat them just like last year."
Senior quarterback and Notre Dame commit Kendall Abdur-Rahman opened up the scoring with an 80-yard touchdown run with seven minutes to play in the first quarter.
Shortly after, senior running back Dionte Rodgers punched in a 1-yard touchdown run of his own giving the Tigers an early 13-0 lead.
Belleville West quickly responded with their only points of the game: a 12-yard touchdown pass with six minutes left in the first half.
Edwardsville poured on the scoring in the second half with a 31-yard field goal by senior kicker Brendan Latham, two more rushing touchdowns and a fumble recovery in the end zone by senior Devyn Jones.
Overall, the Tigers gained 357 yards on the ground, including 179 yards from Abdur-Rahman, according to the Intelligencer.
"Our running game was working really well for us," senior tight end John Cooper said. "Our offensive line did a great job of creating holes for our backs."
The defense also shined in the win by giving up only 167 yards of total offense to the Maroons, who were averaging 45 points coming into the game.
"Our kids played well," head coach Matt Martin said to the Intelligencer. "They executed the schemes and the kids played hard. We tackled so much better than we did last week."
The Tigers will play at Collinsville Friday Oct. 19 to close out the regular season.