Field Hockey Sticks it Out Through Double Overtime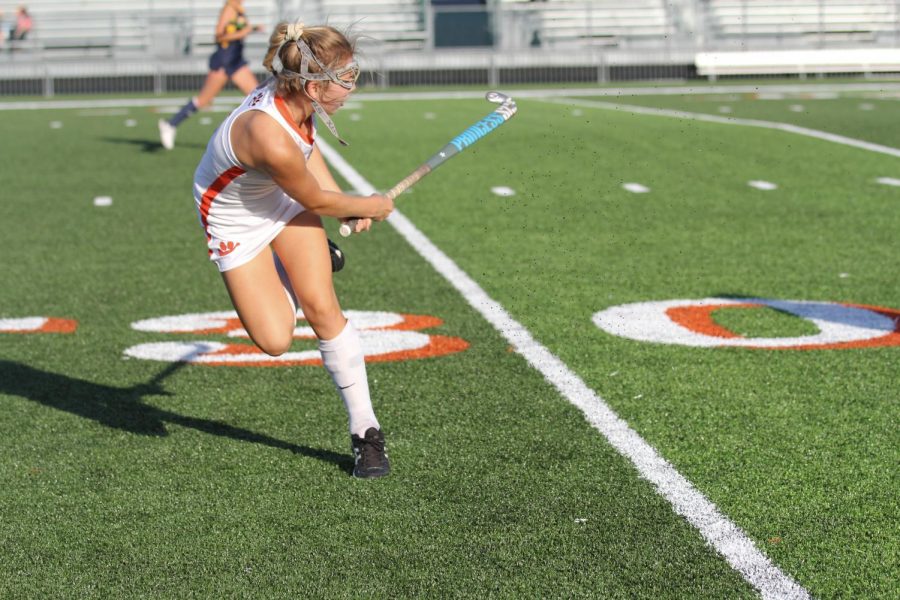 The EHS field hockey team defended their home turf Tuesday against Westminster Christian Academy. The Tigers came out on top 2-1 in double overtime.
"We knew this was going to be a high pressure game mentally and physically, and we were strong enough to play completely through," sophomore defender Gabbi Trauernicht said.
Edwardsville and Westminster fought through the first half without making it onto the scoreboard. When the players stepped onto the field after halftime, each team was ready to score.
EHS senior Erin Dowdy lead this effort by making a goal soon after the whistle blew. This goal was followed up by one of Westminster's own goal, tying the game 1-1.
"It was great because we really needed to win that game and even though we ended up in double overtime, it is awesome to be a part of what helped us win," she said.
The struggle to score a second goal continued until the time ran out and through a single overtime. The first overtime is 10 minutes of sudden death play with only 7 players from each team.
"I thought we were focused and that we played very well in the first overtime," senior captain Alanna Kaminsky said. "We didn't have as much offensive play, but we had a lot of defensive play."
That strong defense, lead by senior goalkeeper Anna Farrar, is what kept the Tigers in the overtime, but pushed the game into a 1v1 overtime period.
"Double overtime was a feeling of anticipation," Kaminsky said. "We all fought so hard in the normal game and in the first overtime, so I believed that we could push that energy over into double overtime and win it."
Farrar saved three out of the five shots from Westminster, while Trauernicht slipped the ball past Westminster's keeper, who only saved two out of the five shots. EHS scored three goals, while Westminster only scored two.
"I've never made a goal on varsity much less in high school," Trauernicht said. "I was happy for myself and especially happy that I could finish out that win for my team especially since it was probably the biggest win of the regular season."
EHS field hockey team hosts its senior night on Friday, Oct. 19 against Lafayette on the turf.