Girls Tennis Causing a Racket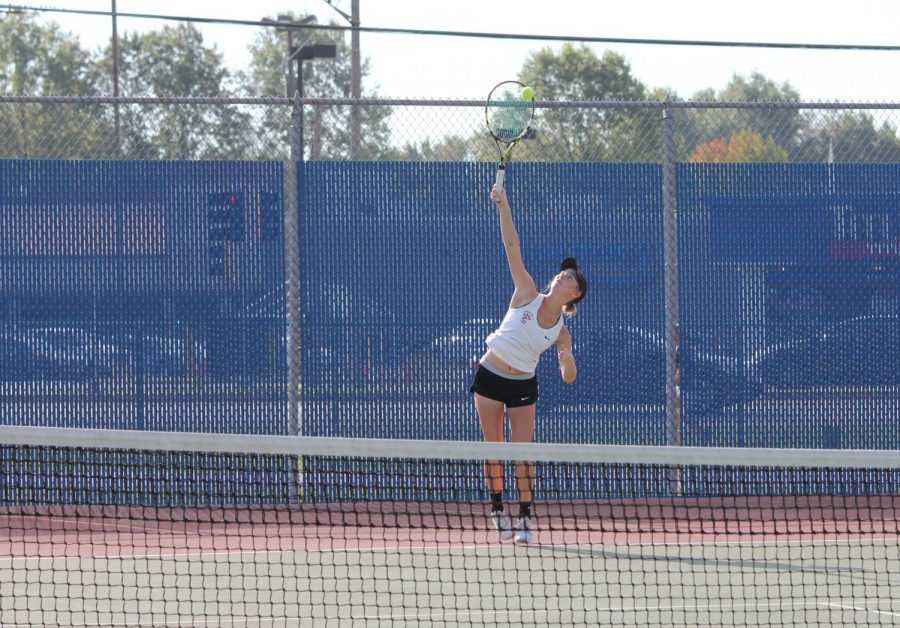 Prior to this year the EHS girls tennis team has won six consecutive championships in the South Western Conference.
Unfortunately, EHS and Belleville East tied for first, which wasn't enough for a share of the championship. Belleville East wins the title due to their previous 7-2 dual meet victory over EHS.
"Congratulations to Belleville East for winning the conference," Coach Dave Lipe told the Intelligencer. "They deserved to win it, and they're a good team. We'll try to improve this week and decide what our sectional line up is going to be."
In the No. 3 singles final, senior Abby Cimarolli beat Belleville East sophomore Abigail McIsaac. Cimarolli was also the No.4 singles conference champion last year.
"I think I played really well especially in singles," Cimarolli said. "I was serving pretty well but working on my baselines would have helped."
In addition to Cimarolli's win, sophomore Grace Hackett won the No.6 singles with a 6-2, 2-6 and 10-7 victory over Belleville. Freshman Hannah Colbert had also won her match of a score of 6-1, 6-3.
Sadly, EHS lost in the No.1, No.2 and No.4 singles. Belleville East senior Maddie Buschur beat senior Annie McGinnis 6-0, 6-1 in the No.4 singles
"After losing my first match I knew I had to give it my all," McGinnis said. "I just stayed positive and didn't let the loss get me down."
McGinnis was able to bounce back to third-place giving the team a 6-2, 6-7, 10-7 victory of Belleville West senior Natalie Soehlin.
"I gave it my all to help my team out," McGinnis said.
EHS and Belleville East will play again next weekend for the class 2A Belleville East Sectional.
"I'm expecting a good outcome next week," McGinnis said. "As long we all keep a good attitude on the court, maintain or emotions and play our hardest we will get far."