Boys Soccer Prepares to Kick Off Post Season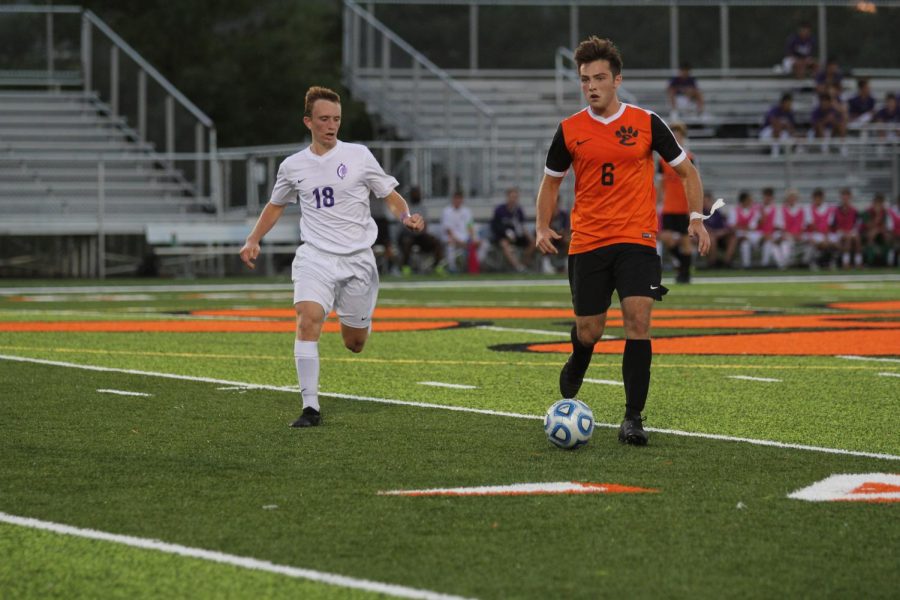 The boys soccer team defeated Alton High 6-0 on Saturday. It was EHS's senior night.
Each senior member of the team played Saturday to commemorate their last home game. This year there are 12 seniors, and it marks one of the smaller graduating soccer classes.
For most of the seniors, this year marks an emotional end to an important four years as a team. Senior Kenneth Bond recognizes how much he has been able to accomplish.
"Sometimes I can't even believe that it is my last year," Bond said. "But it makes me happy that I get to play and be a part of this team this year because last year I made varsity, but didn't get to play a lot. This year I am the starting right back."
Although the game was stopped at the last twenty minutes due to lightning, the Tigers felt their last regular season home game of the year was meaningful.
For senior Patrick Doolin senior night was a great chance to reflect on the last four years and the improvement he and his teammates have shown.
"Over the last four years I have improved a lot," Doolin said. "It took a lot of hard work, and I would go to the turf to train whenever I could during the off-season in order to get better."
And in addition to improvements, some team members feel they have made some meaningful friendships.
"We're all great friends, and we had a lot of fun getting to play together," said senior Nate Waple. "Being a part of a team that's having a great season feels good for all of us, and it's been such a great experience."
Doolin feels similarly and knows that their friendship has strengthened through playing.
"We've all grown a lot closer, and I've created a lot of friendships and created strong bonds with the friends I already had."
As the Tigers head into post season games this Tuesday, and they will be sure to remember their friendships and just how lucky they were to play for the team.
"It's very important to me being a senior on the soccer team," Doolin said. "I had to work hard to get here, and we have a very good team that could go far in the playoffs."