EHS Boys Soccer Kicks Off Another Season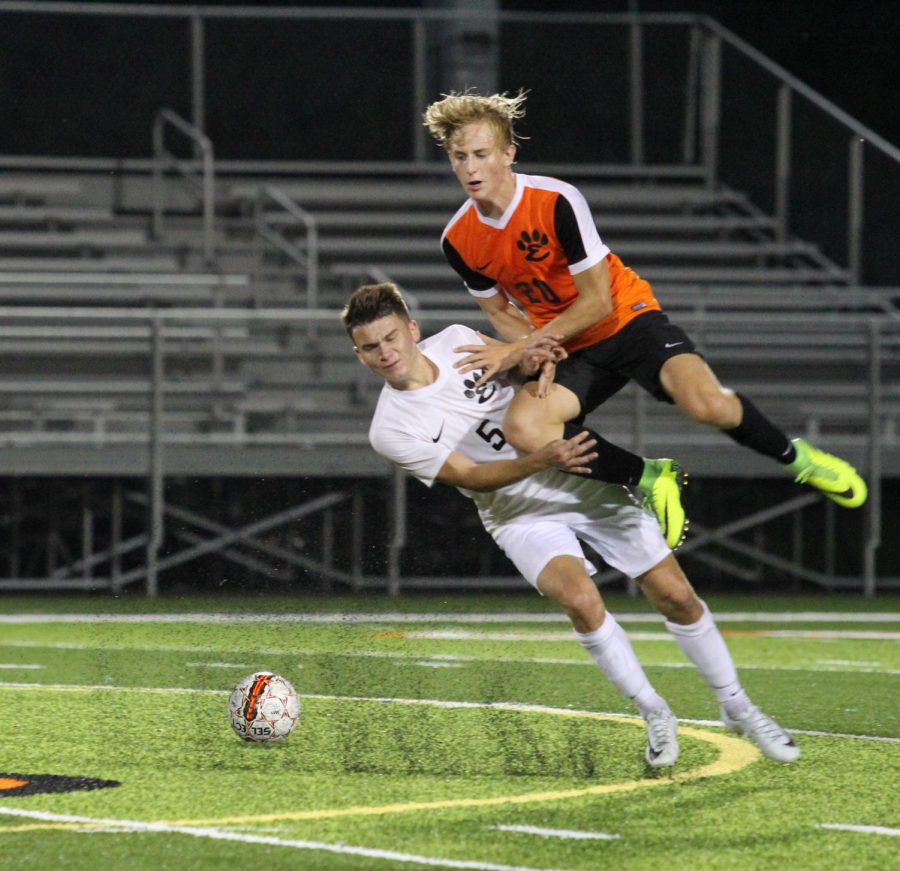 After a summer of scrimmaging, the EHS boys soccer team is ready for another fall on the field, and they're back with high hopes.
Over the summer, prospective players met two nights a week to scrimmage under the lights. The scrimmages not only gave the coaches a chance to see the team's skills but also brought the team closer together.
"It allows us to improve our team chemistry and have some fun," senior and returning varsity player Tyler Tepen said.
Varsity coach Mark Heiderscheid agreed that the scrimmages were lighthearted and fun, but the players still impressed him.
"I think their approach, their intensity in the game, their excitement and their love for the game really showed all summer," coach Heiderscheid said.
Twelve seniors lead the varsity team, seven of whom are returning varsity members. The many upperclassmen vying for leadership roles could present problems, but senior Ethan Miracle thinks the responsibility should be shared.
"There are a few that stand above the rest and will lead with a title, but I think everyone has to lead by example…through character and showing what we want our team to be about," Miracle said.
With the seniors help, coach Heiderscheid is anxious to see the younger players grow. Many of them attended the high school camp as middle schoolers, and Mr. Heiderscheid is "overjoyed" with their development.
As for the JV team, junior Logan Loftus is optimistic that they will compete this year. He's noticed some egos that must be overcome but is hopeful that time will help the players adapt.
"It takes a while to get used to playing with different people, and that's something that we will have to work for during practices so we are at our best for games," Loftus said.
The freshmen team, with 23 members, is not experiencing the same problem. Freshman Cole Sitton said many of the players have already played together on club teams, making the transition easy.
"We are all very familiar with each other's strengths and weaknesses on the field," Sitton said.
Sitton, along with his teammates, is excited for the chance to play for his school and improve his skills.
Throughout the season, Loftus also wants to do everything he can to improve and hopefully make the varsity roster next season, a goal many JV members share.
The current the varsity team also has a goal in mind- a chance at the state title. Disappointed with where their seasons ended in past years, Miracle and Tepen think they are on track to change that.
"With such a high reputation that this program has to uphold, we want to make it as far as possible each year," Miracle said. "We think we have a good shot at making it very deep into playoffs."
Tepen agreed, saying he is "expecting a special season" after the Orange and Black Scrimmage Saturday night.
Full of energy and fast-paced plays, the scrimmage also left Mr. Heiderscheid with high expectations.
"There's no doubt that they're dreaming very high," Mr. Heiderscheid said. "And they have the ability to maybe fulfill those dreams this year."