Tigers Fall in First Round of Playoffs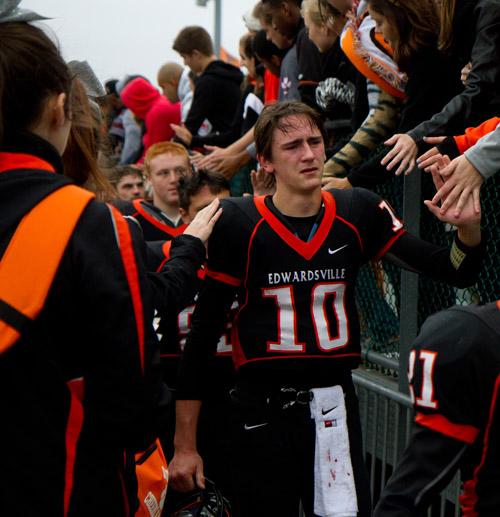 The Edwardsville Tigers Varsity Football Team's undefeated season came to an end on Saturday, Oct. 31, after the team fell in overtime to Aurora's Waubonise Valley.
The Tigers fought for the win throughout the entire game, with seniors Jackson Morrissey and Kendell Davis scoring touchdowns, and junior Riley Patterson scoring a field goal.
Senior Grant Bradley said that the loss was all just a part of the sport.
"Great plays were made and mistakes were made," Bradley said, "that is what comes along with playing as a team."
Instead of looking strictly at the single game that the team lost, junior Cyress Ahart looks back on the season as a whole on a positive note, especially winning the Southwestern Conference title for the third year in a row.
"The highest point in my season was winning the Southwestern Conference for a three peat," Ahart said. "Going undefeated is a great feeling, but it is also our goal every season."
While the season was clearly important to the players, it also was held close to heart by many avid fans.
Senior and Orange Rush leader Collin Clayton thinks of the year as a time to remember.
"It was so electric throughout the whole year," Clayton said, "it was just the best feeling ever knowing that we are cheering for a winning team."
Senior Trevor Martin also reflects on the season, as well as the last football game as a senior fan.
"I obviously wish they could have gone a bit further," Martin said, "those were both great teams and the seniors lead the team all year and kept EHS football on top of the Southwestern Conference."
EHS football fought their way to the top during the regular season, and although they had a surprising end, the players will look on and continue to look back on the positives of the past year.
"The highest point of the season was definitely the end," Bradley said. "There is nothing quite like looking at my teammates in the eyes and knowing that they laid it all out on the line, as I did."