Edwardsville Football Kicks-off with Orange and Black Scrimmage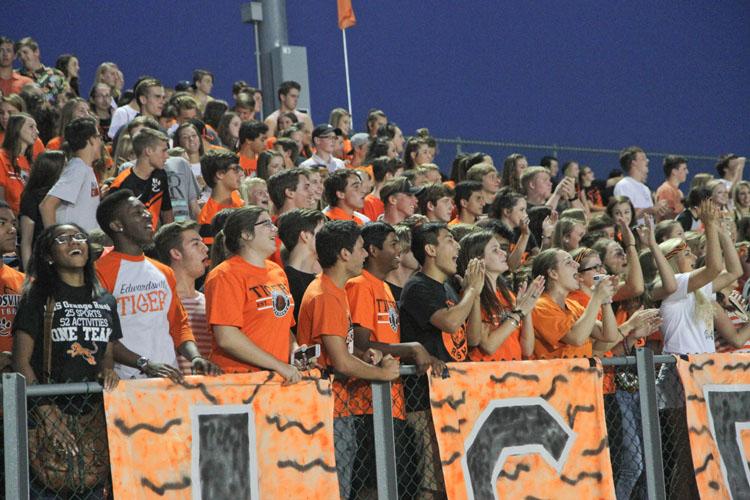 Summer has officially come to an end. School has started, and the weather is getting colder. Though the start of fall arrives with many negative connotations, like waking up early, road rage in the parking lot, and research papers, it also brings along some good things, such as football.
The Orange and Black scrimmage is an introduction to the middle school, little tigers, freshmen, sophomore, and varsity football teams. Although there was not a "winner," it was an exciting event to attend and the stands were filled with Orange Rush members.
The seniors created an incredible environment, shouting cheers for both sides of the Tiger scrimmage, but the freshmen were still too new to the school to embrace this energy, and just stood in the back of the student section, watching twitter and snapchat updates in hopes to feel somewhat a part of the game.
The freshmen are new to a lot of things, but usually by high school people have found their place to be in sports. However, for freshmen Greyson Slagle, Jonathon Yancik, and Bo Meikamp, the football turf was a brand new scene last Friday during the Orange and Black scrimmage, both on and off the field.
"As soon as I stepped on the field I got an adrenaline rush, I was ready to go," Yancik said after his first time playing football in front of an audience of more than his peers and coaches. "It was an exciting moment."
Although football is a new sport for these boys, they are not strangers to the competitive sports field. Yancik, Meikamp, and Slagle all played baseball during middle school. Yancik and Slagle both ran track, and they plan on continuing their careers in these sports in the upcoming year.
For Meikamp, it reminded him of a former sport he also played. "Playing on the field today was like a wrestling match. I got hyped, went out there, and played my best."
While these freshman may be new on the turf, but they certainly are not letting their newbie status hold back their confidence in the upcoming year. "I feel like we'll go undefeated this year. We're giving one hundred percent effort every game," Slagle said about the season to come. "We're going to blow the other teams away."