Popeyes Chicken Sandwich Exceeds Expectations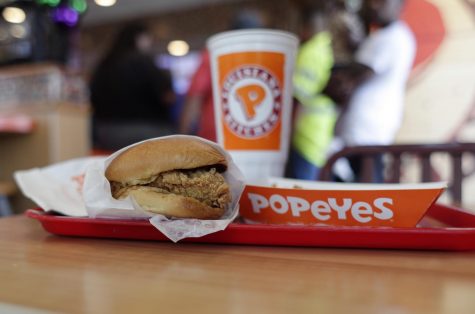 Popeyes restaurants across the nation have been sold out of them for days. Some restaurants even sold out on the first day of having them.
Popeyes' new chicken sandwich has been hyped up all over the internet since its arrival.
There has been a lot of controversy surrounding the sandwich, including a gun being drawn in Houston, Texas after a group was told by Popeyes that they were sold out of chicken sandwiches, according to Fox News.
Hopeful that they would have it, I called Popeyes in Fairview Heights as soon as they opened at 10 a.m. and found out they would be running out of the sandwiches that day. The man on the phone told me to get there fast if I wanted one.
I decided to go through the drive-thru. Thankfully, at the time the line wasn't too long but I did wait for about 15 minutes to get my food.
It was worth the wait.
As soon as I got my food, the smell of fried chicken hit my nose. When I opened the box, I automatically noticed it looked just like the picture, super crispy and juicy. The first bite was full of crunchy savoriness from the crust and the chicken was extremely tender. The chicken basically melted in my mouth. It had the perfect amount of moistness and texture. The mayonnaise on the sandwich gave it a hint of sweetness that contributed to the overall flavor.
I didn't expect it to be this good. I was expecting it to be just like any other chicken sandwich I've had, with crunchy crust but still not completely fried to a crisp and dry.
It's easy to say that this sandwich exceeded my high expectations. When Popeyes is no longer sold out, I will be going back for another one.