Pandemic Restrictions Impact Choir Practices, Performances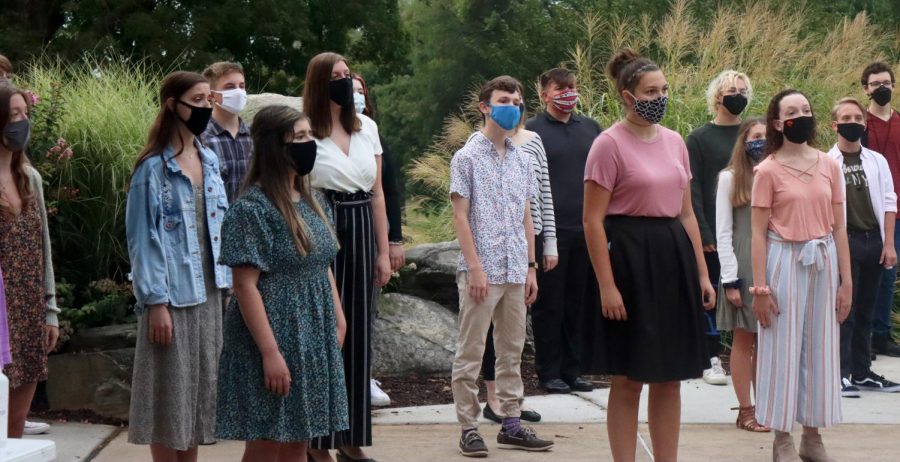 Carrying a tune is difficult when a pandemic is directing your performance.
Edwardsville High School's 100 choir students are adapting to COVID-19 safety precautions by rehearsing outside, standing 6 feet apart and wearing masks.
"While it is challenging, if you are a singer, you have to sing! So that is what we are doing," Choir Director Emily Ottwein says. "It just looks different this year."
Singing in a classroom can be more dangerous than a traditional lecture setting. Mrs. Ottwein says singing generally produces more aerosols than speaking but less than coughing.
"When masked, the aerosol spread reduces to that of speaking with a mask," Mrs. Ottwein says.
Relocating rehearsals outdoors allows more space for students and increases ventilation, but these changes can strain both singers and directors.
Sophomore Reese Pifer expressed her concern with the new restrictions.
"Being able to listen and hear the people around you is important for us so we can sound like a cohesive group. Wearing masks and having to physically distance has definitely been a challenge," Pifer says.
Ottwein says it is impossible to demonstrate proper singing technique and check mouth shape, jaw involvement, and tongue placement with her students in masks. And because members struggle to hear their director, Ottwein purchased an amplifier and a device to separate her mask from her mouth.
Ottwein hopes her efforts will prepare her students to perform.
 "We have plans for an outside performance for Bel Canto and AcaFellaz. Otherwise, we will be recording concerts in the auditorium during each class period and that will be our final 'concert,'" Ottwein says. "No live audience and no getting the group together, sadly." 
The hybrid class schedule is stressing choir students as well.
"The most challenging part is not being able to sing as a whole choir. In my class, we have half of our group sing together, and it makes rehearsals difficult," senior Sophie Jobe says. Jobe also feels she is missing out on a normal senior year because most choir events were cancelled due to COVID-19.
Although rehearsals are altered and choir events such as All District and All State festivals, field trips, out of school performances, the Madrigal, and the Holiday Concert have all been cancelled, Mrs. Ottwein and her singers remain optimistic.
"When we can all sing together normally… WATCH OUT!" Ottwein says. "The musical experience is going to be amazing because we will all appreciate it so very much more."