Lipe, Hemings Crowned Homecoming Royalty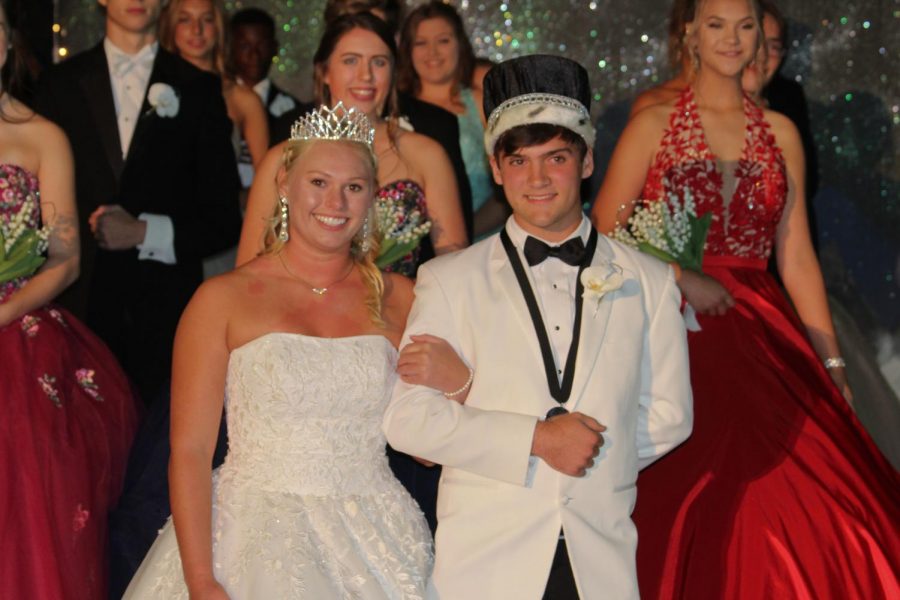 Under dimmed lights and in crowded gym families, friends and EHS students gathered to watch as a new king and queen were crowned.
EHS continued this long standing tradition of homecoming royalty this year after by naming Lydia Hemings and Seth Lipe, both seniors as tradition states, King and Queen.
The crowning occured after the 30 member court danced a traditional waltz and each member was presented with a short biography.
Some members chose to go with funny or punny biographies, while others opted for more serious descriptions. Lipe mentioned "crankin' that soulja boy in his free time" and he even acknowledged his twitter fanbase in his biography- the reason he believes he won the title of King.
"It was pretty cool, but I'm pretty sure I only won because of my twitter account," Lipe said.
Hemings felt like winning homecoming queen was nothing short of a childhood dream come true.
"I think being homecoming queen is something so many little girls dream of," Hemings said. "And when it all happened, it didn't even feel real."
But both Hemings and Lipe felt that being a part of homecoming court was a memorable experience.
"It was so fun," Hemings said. "I enjoyed going to every practice and learning the dance with the other court members."
And although Lipe also had fun, he was anxious about his performance.
"The dance was actually kinda hard at parts and I was pretty scared I was going to screw up, but luckily I managed not to embarrass myself," Lipe said.
Hemmings and Lipe were two of the six possible winners of king and queen. Morgan Allen and Tara Colligan were the other two queen candidates while Trevor Lovatto and Seth Goodman were the king candidates.
Colligan felt that homecoming court was a fun experience which resulted in two deserving winners.
"If I were to congratulate them I would say 'You earned it. It sounds cliché, but I mean it." Colligan said. "They did great, and they looked great."