EHS Defeats SWC Rival East St. Louis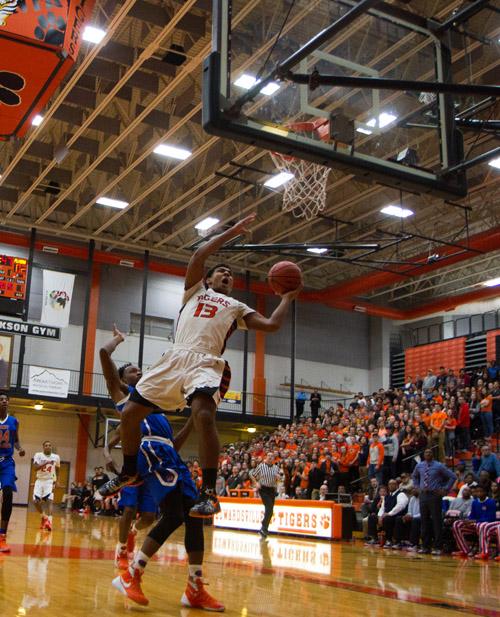 EHS has been a basketball rival of East St. Louis for many years, and after this year's buzzer-beater game at East St. Louis, the home game was highly anticipated.
"I don't usually go to basketball games, but this one was going to be really good," junior Evan Vaughn said. "I really enjoyed it, the atmosphere was so intense the whole time."
The entire game was neck in neck. By the end of the first quarter, the Tigers were ahead by one point. At halftime, EHS was losing by two.
The Tigers returned ready to play and at the end of third quarter, they were winning by two.
The final score was 63-54 Tigers. Although it was not the last minute scoring fest and was won by more than one point, it was still an exciting game for the fans.
According to Vaughn, a lot of very good plays were made.
"They were all really fast paced and crazy," Vaughn said.
Junior Molly Spangenburg claimed that the game was one of the best she has been to.
"I usually really look forward to the East St. Louis and Alton games because they are so lively," Spangenburg said. "I was kind of worried because of how we played at the last game against them, but it clearly worked out for [The Tigers]."
The Tigers are currently undefeated in the Southwestern Conference and hope to advance to state finals this year.
"I wasn't sure how the team was going to be this year," senior Collin Clayton said.
"After last year, where we had Marinko and Davis, and the year before where we had basically the dream team of starters, I was worried that we weren't going to be playing as well as we usually do," Clayton said. "We have a lot of good players this year, and I can't wait to see how far they go."