Pritzker Signs Bill Increasing Illinois Teachers' Salaries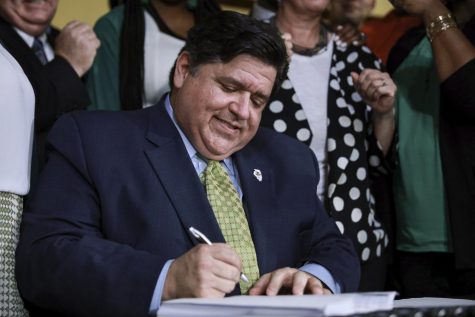 Illinois Gov. J.B. Pritzker signed a new bill on Aug. 15.
"J.B. Pritzker has signed legislation raising teachers' minimum salary to $40,000 over four years to address the statewide shortage of classroom teachers," the Daily Herald reported.
In theory, this bill should help bring in more teacher candidates.
Pritzker said currently the minimum teacher salary ranges from $9,000 to $11,000.
The Illinois state Board of Education data from the 2018-2019 school year showed 1,848 unfilled teaching positions in school districts across the state.
Next school year, the minimum salary will be $32,076 and will gradually rise over a four-year period during which, in the 2023-2024 school year, the minimum salary will reach $40,000. Following this period, the salary will increase based on the Consumer Price Index.
"To teachers all across Illinois: I see the care and compassion you put into your work, and I'm proud to help make sure you earn what you're worth," Pritzker told the Huffington Post.
Why haven't teachers been given a raise sooner?
According to the Chicago Sun-Times, former Illinois Gov. Bruce Rauner vetoed the bill to increase teachers' wages because raising them didn't seem to be an effective way of attaining teachers.
Increasing wages was one of only two recent actions taken to help with the issue of teacher shortages.
According to the Illinois state Board of Education, "Public Act 101-0220, signed into law yesterday by Governor Pritzker, eliminates the requirement that teacher candidates pass a test of basic skills to receive a professional educator license."
Removing this test eliminates an obstacle for a teacher candidate who has fulfilled all other requirements needed to obtain a professional license.
"As Illinois children head back to school this week and next, this new law says to them and their parents loud and clear: we value teachers," Pritzker said.