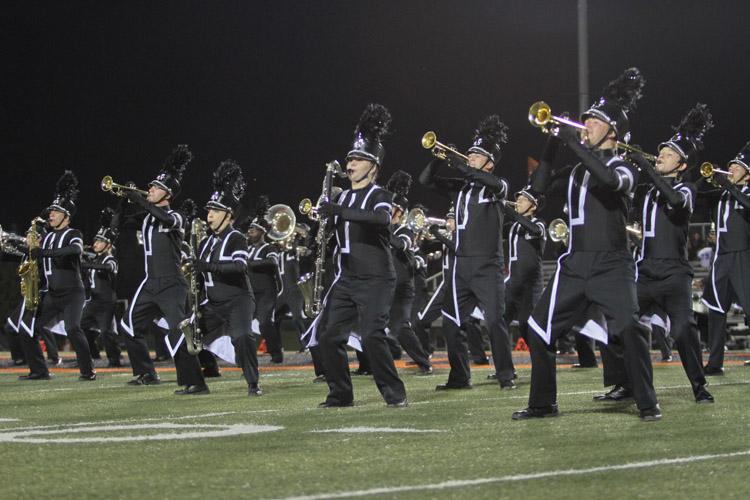 Devin Kane
For the eighth year in a row, the Edwardsville Tigers band put on The Tiger Ambush Classic. This event takes place on the turf field located directly across from EHS.
The Tiger Ambush Classic is an annual marching band competition hosted for Metro East high school marching bands that lasts all day, and it is also one of the largest fundraisers of the year for the EHS band program.
Along with putting on an exhibition, or not for judgment, performance, the EHS Tigers involved in the event must host the other bands for hours prior to their show. The Tigers didn't take the floor until almost 9:15 p.m.
"We started warming up two hours prior to our performance," senior Charlee Thompson, who plays snare drum for the band and is also a percussion section leader, said. "We were the last band to perform, but we needed a lot of time to get ready."
Before the Tigers go on, they spend the day helping other bands find their way around and running concessions.
"It's really nice helping people, but performing is definitely my favorite 'role' of the day!" Thompson said.
For the seniors, this year's performance was much more than just another outing.
"Marching in the exhibition for the last time is something I'll always remember," senior Julianna Cullen, who's a drum major, said.
The show was written by Mr. Lawrence Rogers, who just moved to Chicago to direct a band, for the EHS Marching Band specifically. The show is titled "Our Sanctuary," because that's what band has been to all of the students involved.
"Band is the place we've made all our best friends, where we've grown, had fun, and learned that we love music and we love to perform," Thompson said.
Three total movements make up the show, each representing a progression in a students' high school band career. The movements represent all of the anxieties, excitements and learning that take place during band.
"The show ends in a powerful and bittersweet fashion," Thompson said. "Everyone realizes it's coming to an end, so it's one final 'thank you' and 'goodbye' to the band for the amazing experience and memories."